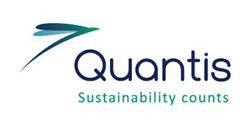 "My goal is to grow our market and portfolio of environmental services to empower our clients to grow sustainably" - Quantis CEO Emmanuelle Aoustin
Paris, France (PRWEB) March 18, 2014
Swiss-based group Quantis International, the globally recognized leader in Life Cycle Assessment (LCA) and sustainability expertise and consulting services, announces the promotion of Emmanuelle Aoustin to the position of Chief Executive Officer, effective immediately. She succeeds Quantis co-founding partner Yves Loerincik, who is stepping down as CEO. Loerincik will remain a member of the Board of Directors as well as Managing Director of Quantis Lausanne. Aoustin will continue to implement Loerincik's philosophy and vision of Quantis, which made the group the world's leading reference for LCA expertise.
"The promotion of Emmanuelle to CEO marks the beginning of a period of accelerated development at Quantis. Since joining the team two years ago, she has shown a high level of commitment towards our clients, company and strategic vision," Quantis Board Members Manuele Margni and Edgar Brandt jointly state. "Emmanuelle is a real asset for us and is the ideal executive to lead our next phase of international development. We are pleased that she accepted the challenge," they add.
In addition to her new role as CEO, Aoustin will remain Managing Director France and will work closely with the other Quantis Managing Directors: Loerincik (Lausanne), Rainer Zah (Zurich), Edouard Clement (Canada), and Jon Dettling (US).
"Quantis is in a prime position for growth: we have an unrivalled team of LCA experts powering our sustainability and LCA projects, tools and methodologies, and we have become the reference in our field for exemplary consulting services," Aoustin explains. "With this solid foundation built under Yves' leadership, my goal is to expand our market reach and grow our portfolio of services to empower our clients to grow sustainably."
On behalf of the entire Quantis group, the Board of Directors would like to formally thank Loerincik for "his efforts and strategic vision, which have served Quantis well from its early days as a start-up in 2006 to the globally recognized and esteemed company that it is today. The values of innovation, quality, integrity, collaboration and commitment, which have served as the foundations of our group, enable us to confidently maintain our commitment to clients while supporting our growth."
Loerincik will concentrate on strengthening the group's position in Europe and French-speaking Switzerland, as well as leading the expansion of the group's IT development and consulting units. And as a board member, he will continue to develop the company's strategic vision.
Aoustin joined Quantis in February 2012 as VP, Marketing & Business Development and quickly became Managing Director of Quantis France in order to consolidate the group's position on this market. She successfully assisted more than 20 clients in the development, promotion and strategic integration of life cycle thinking in companies' operational processes. A chemical engineer and graduate of the ENSCM (Advanced National School of Chemistry in Montpellier), Aoustin has 13 years of experience working on environmental issues, from ecosystem risk assessment to biodiversity and LCA. At Veolia Environnement, she managed the Environmental Risks and Impacts R&D team for five years before becoming the group's Environmental Footprint advisor within the Sustainable Development Department. Aoustin has also led some French and European regulatory committees.
To support the strategic growth objectives defined by Aoustin, Quantis has also named Lori Gustavus as Director of Communications & Marketing. Gustavus is an expert in brand and communications strategy with solid experience in the sustainability and technology sectors. She joins Quantis from Bluehorse Associates/Carbonostics.
About Quantis International
Quantis is the global leader in sustainability and Life Cycle Assessment (LCA) expertise, services, consulting and tools. Quantis is specialized in supporting companies as they measure, understand and manage the environmental impacts of their products, services and operations. Fuelled by its close ties with the scientific community and its strong track record with clients, Quantis has proven experience in supporting clients as they transform LCA results into business strategies and operational action plans.
Quantis counts some of the world's sustainability leaders as its clients: Danone, Nestlé, Unilever, Kraft, L'Oréal, Total, Michelin, Pfizer and the European Commission, for example.
Quantis International has offices in Switzerland, France, the US and Canada, and employs over 60 people, amongst which several are internationally renowned experts in the LCA field.
For more information on Quantis, visit http://www.quantis-intl.com
For information on the World Food LCA Database, click here.
Media Contact:
Lori Gustavus
Director of Communications & Marketing
Lori(dot)gustavus(at)quantis-intl(dot)com
+33/ 9.63.23.04.67