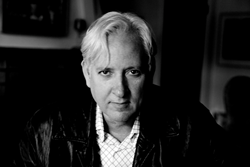 "Many have asked why I'm doing this piece. The answer is clear. Why would I not seek shelter and shield myself from an increasingly and pointlessly complex world (even if only temporarily). More importantly, I like to play the long odds."
Maitland, FL (PRWEB) March 17, 2014
Inspired by the torturous conditions Freedom Riders of the 1960s endured when they were jailed at Parchman Farm in Jackson, Mississippi, artist Jake Fernandez will lock himself in a studio at the Art & History Museums - Maitland for 7 days and 16 hours beginning March 23rd. Working with minimal provisions and furnishings, Fernandez is also seeking to explore how sensory deprivation - in this case, no natural light, impacts the creative process.
Entitled La Finca de Parchman, the project will take place in a concrete block space measuring approximately 8 x 12 ft. with no windows and no furniture other than a wooden table and cot. Fernandez will be provided rag drawing paper, conte crayons and pencils for his artwork that he will create during this time.
During Fernandez' seclusion, the space he will be living and working in will be equipped with a camera with which visitors can watch streaming video of his experience. On the 30th, upon conclusion of the experience, the artist will emerge and will answer questions.
La Fince de Parchman is part of Art31, Art & History Museums - Maitland's first annual event featuring a variety of participatory and collaborative art events. More details on Art31 are available on the A&H web site or on Art31.org.
About Art & History Museums - Maitland: The Art & History Museums Maitland's unique architecture, beautiful gardens, quality exhibits and programming, and two sites listed on the National Register of Historic Places make it a must visit cultural destination. The Art and History Museums Maitland (A&H) formed in May 2010 with the merger between the Maitland Art Center and the Maitland Historical Society. With a combined 115 years of service, these facilities are integral to Central Florida's cultural identity.
The Art and History Museums Maitland strives to promote, engage, and educate all visitors about visual art and history through exhibitions, tours, classes, hands-on programming, special events, outreach programs, research services, and volunteer opportunities.