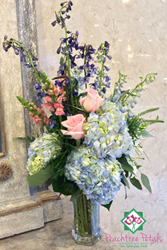 Atlanta, GA (PRWEB) March 18, 2014
Peachtree Petals, a recognized leading Atlanta florist specializing in premium floral arrangements and wedding floral decor services, announces its new Buckhead Posh Collection. The florist makes the announcement to inform its clients of its continued pursuit to create superior floral designs, expand its customer base and improve sales growth. Peachtree Petals strives to be the best choice in high-quality and custom-designed floral arrangements nationwide.
Peachtree Petals' latest Buckhead Posh Collection consists of premium floral bouquets inspired by the English Gardens and the love of gardening. Their style is based on the art of simplicity, with minimal greenery to enhance the beauty of the flowers themselves, all nested within a simple vase. The flowers within the Buckhead Posh Collection can be grown in your own backyard and brings the beauty of nature to life. Whether short or tall, there are over 30 floral arrangements within this stunning collection to choose from.
The florist also offers a wide range of discounted floral arrangements and daily deals for customers to enjoy. The Tropics Appeal Bouquet advertised as this week's Deal of The Week and is just one example of the beautiful arrangements within the Buckhead Posh Collection. On the home page ad banner of the Peachtree Petal's website, customers can find this deal. This hand tie bouquet includes white hydrangeas, green mini hydrangeas, mini callas, orange roses, pink spray roses, safari sunset, and stock, all within a square cube vase with green leaves. It is on sale this week for only $64.97, which offers customers a savings of 25% off the regular price. This arrangement is only available for local-delivery.
Peachtree Petals has also relocated to its new Midtown store, which is very accessible and is a closer commute for all of its customers. The luxurious floral and gift shop includes floral bouquets, gift baskets, chocolates, candles, plush toys, balloons, and much more. The operating hours are from Monday through Friday from 8:00am to 5:00pm, and Saturdays from 8:00am to 1:00pm. For any questions regarding the Buckhead Posh Collection, any special volume requests or other amazing deals, please call 678-336-1195 or visit http://www.peachtreepetals.com.
Peachtree Petals is a well-known leading Atlanta florist and recognized Master Florist nationwide. From Wedding Bouquets to Anniversary Flowers, Peachtree Petals is able to meet all of your floral needs. Their floral designers have over 50 years of experience and enjoy their craft. Based in Atlanta, Georgia, Peachtree Petals services a growing list of clients, including company floral subscriptions and weekly floral services. The company offers a simple approach to the floral industry, most notably, same-day delivery of all their floral arrangements in the Atlanta and Metro-Atlanta area.