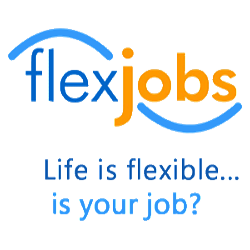 Boulder, CO (PRWEB) March 17, 2014
FlexJobs features 25 virtual companies that allow all or most of its staff to telecommute 100 percent of the time. This list of remote companies represents a variety of industries, such as marketing, medical, employment, education, legal and financial, among others.
"There is a huge amount of skepticism surrounding remote work, and yet there is more workplace technology supporting remote work than ever, with 16 million people who telecommute part-time in their jobs, and another 3.3 million who work remotely 100 percent of the time," shared Sara Sutton Fell, CEO of FlexJobs. "The belief that people are only productive and working when they are in an office building is simply old-fashioned in this day and age, as is the belief that having a physical office is an absolute requirement for growing a successful company."
The types of professional roles that can be performed remotely are much more broad than typical associations with virtual work. Some jobs these 25 virtual companies are currently hiring to fill include Senior Tax Wrangler, Director of Engineering, Marketing/Business Development, Customer Experience Representative, Technical Consultant, Data Analyst, and more. In general, telecommuting jobs range from entry-level to executive, part-time to full-time, and in almost any career area, according to FlexJobs.
"Having started FlexJobs as a virtual company, I can say that it is not only possible, but it can also be an ideal way to build a successful business with an outstanding team," added Sutton Fell. "I realize that it's not for every company or even most companies, but I do believe that almost every company could integrate remote work with resulting benefits."
Regular telecommuting grew by 79.7 percent between 2005 and 2012, not including self-employed people who work from home, and it's not likely to slow down anytime soon.
To see the list of 25 companies that run entirely virtual, visit: http://www.flexjobs.com/blog/post/25-virtual-companies-that-thrive-on-remote-work/
About FlexJobs
FlexJobs is the leading online service for professionals seeking telecommuting, flexible schedule, part-time, and freelance jobs. With job listings in over 50 career categories and opportunities ranging from entry-level to executive, freelance to full-time, FlexJobs offers job seekers a safe, easy, and efficient way to find professional and legitimate flexible job listings. Having helped over a half million people in their job searches, FlexJobs has been featured on CNN, the Wall Street Journal, Forbes, and Good Morning America, among hundreds of other trusted mediaoutlets and is a proud partner in the 1 Million for Work Flexibility initiative.