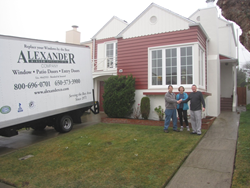 Burlingame, CA (PRWEB) March 17, 2014
Alexander Company is proud to announce that they recently awarded one of their customers a big prize for winning a sweepstakes the company ran as part of their Simonton window promotion. Customer Paul Aguilera won a 60-inch flat screen television and a $500 gift card.
The Simonton window promotion ran for two months, and all homeowners who purchased and installed Simonton windows from Alexander Company were eligible to win. Aguilera's name was chosen from a hat, and he was awarded his prize last month.
Alexander Company, a family-owned door and window business located in San Francisco, is happy with the results of their promotion. Besides drumming up some new business for the company, the business was also excited to be able to give one of their customers an exciting prize. Alexander Company thanks Aguilera and all their other customers for their continued business and trust and looks forward to running another promotion in the future.
Alexander Company offers a wide selection of replacement windows and doors from all the leading manufacturers. Customers can always count on the company to deliver high quality products, super installation and maintenance services and personal attention. Look no further than Alexander Company for the best in door and window replacement, installation and repair.
For more information about Alexander Company and their recent Simonton window promotion, call 650-288-0297 or visit their website at http://www.alexandercoba.com/.
About the company:
Since 1971, Alexander Company has provided residents and businesses of the peninsula and all of the San Francisco Bay Area with the very best in home windows and doors. As a family-owned and operated business, Alexander Company has provided the Bay Area with window replacement services, window repair, window installation, door installation and door replacement. They proudly carry the top window manufacturers in the country in the showroom in Burlingame. Give Alexander Company a call today to find out more about their exceptional line of windows and doors at 650-288-0297.