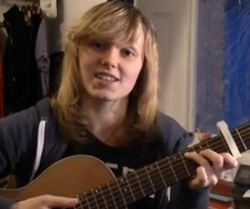 (PRWEB) March 17, 2014
Beth starts off this lesson by performing a sample of the song she will be teaching. Next she explains the chords that will be used in the song which are; G, D, Em and C, she also mentions that a Capo is needed on the 4th fret to be in the proper key. "The great thing about this song is that it uses one chord pattern all the way through," says Norman, "its G, D, Em and C, each of which gets four beats." Next Beth demonstrates the strumming pattern, which is; down-down-up-up-down-up (1-2-&-3-4-&), which she plays twice for each chord. Next she demonstrates the picking pattern as simultaneously picking the a bass note with her thumb and three high strings with her first, second and third fingers, followed by an upstroke with her first finger and finally she slaps the strings with the side of her hand to achieve a percussive sound, she repeats this pattern four times on each chord. Guitar TAB's and full chord charts for this easy acoustic guitar lesson are available by clicking the link in the video or by visiting SongTabs.com.
A Capo, short for capotasto, which is Italian for "head of fret board", is a device used on the neck of a fretted instrument to shorten the playable length and raise the pitch.
Jason Mraz is an American singer/songwriter who started his musical career on the San Diego coffee shop scene in 2000. He reached commercial success with his second album, Mr. A-Z, in 2005 that peaked at number 5 on the Billboard 200. He has sold thousands of albums world wide and has won two Grammy Awards.
Beth Norman
Started playing the guitar at the age of 15 and started her first band only after 3 months of playing. She put up her first YouTube tutorial video in 2009 and has gained 40,000 subscribers and over 8 million views and counting.
About SongTabs.com
SongTabs.com is a great online resource for learning to easily play your favorite songs on the guitar. With several great instructors and a constant growing catalog of songs, everyone can learn to play there favorite songs.