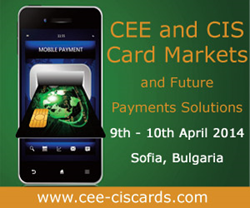 (PRWEB UK) 17 March 2014
"MasterCard and Visa are quite active in the mobile payments segment. In August, Visa through a partnership with the Czech Republic's largest mobile operator – Telefonica – launched a commercial implementation of mobile payments, whereby the O2 stores began offering mobile payment enabled smartphones to customers in the country."
Poland is the European leader in terms of PayPass card usage (both in terms of value and volume) and is second in the world just behind Canada. There will be 100,000 PayPass terminals in Poland by the end of 2012; there should be 200,000 by the end of 2015. According to Capgemini's data, in 2012 worldwide mobile transaction value, which is made through devices such as mobile phones and tablets, will reach $171.5bn and be 62% higher than in 2011." – "M-payments to expand in Central Europe" by Kinga Szablowska, 5 November 2012, http://www.ceeitandtelecom.com/news/176743/m-payments-to-expand-in-central-europe.
Against this backdrop, SMi's CEE and CIS Card Markets conference will feature numerous presentations on topics such as contactless payments and next generation payments.
There will be two presentations focused on contactless payments and with case studies on PayPass:

How to drive innovations via contactless payments presented by Artur Turemka, General Manager, Mastercard Europe
Contactless payment implementations in Romania, by Baris Cosan, ADC Project and Visa/ MasterCard Relationship Management, Credit Europe Bank.
Furthermore, there will also be a presentation on Next-Generation Payments in Europe, of which will be presented by Krassimira Raycheva, Country Manager, Visa Europe.
For more information on this conference please visit the website http://www.smi-online.co.uk/2014cee-ciscards1.asp or Contact Andrew Gibbons on +44 (0)20 7827 6156or email agibbons(at)smi-online(dot)co(dot)uk.
For those interested in attending there is a special price of £899 for banks and financial institutions.
About SMi Group
Established since 1993, the SMi Group is a global event-production company that specializes in Business-to-Business Conferences, Workshops, Masterclasses and online Communities. We create and deliver events in the Defence, Security, Energy, Utilities, Finance and Pharmaceutical industries.
We pride ourselves on having access to the world's most forward thinking opinion leaders and visionaries, allowing us to bring our communities together to Learn, Engage, Share and Network. We hold events in over 30 major cities throughout the world including London, Paris and Singapore and to date have welcomed over 200,000 participants from 80 countries.
For more information, please visit http://www.smi-online.co.uk.