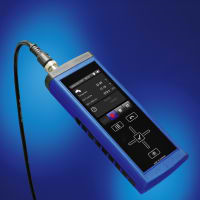 The XA1000 was created to be the 'smart phone' of handheld measurement devices with a large touch screen color display, a directional pad and a very intuitive interface for users.
Santa Barbara, California (PRWEB) March 19, 2014
Lufft USA, Inc., a global manufacturer of high quality, precision weather and environmental monitoring solutions for industry and government, has announced the release of the Lufft XA1000, a highly versatile, touch screen-operated handheld measuring device for capturing environmental data such as temperature, humidity, pressure, carbon dioxide levels and air flow. Weighing just 205 grams (7.2 ounces) and boasting a compact form factor of 6.6 inches long, 2.4 inches wide and a mere 1.3 inches thick, the Lufft XA1000 is the newest generation of Lufft's popular line of lightweight and portable digital instruments for on-site and laboratory use.
"All of Lufft's decades of experience in engineering handheld measuring devices went into the development of the XA1000, resulting in an extremely precise and multipurpose instrument suitable for a wide range of applications and industries," commented Ann Pattison, president of Lufft USA, Inc. "For on-site use it is ideal for reference measurements in the building automation, HVAC, plumbing and construction sectors, yet is so precise it offers multiple benefits in testing labs, pharmaceutical environments and the food and beverage industries."
Engineered for extremely accurate data capture, the Lufft XA1000 can meet the most stringent measurement requirements for temperature, humidity, air flow and other climate metrics including air pressure and carbon dioxide levels. The device's powerful embedded software calculates and displays physical parameters such as dew point, wet bulb temperature and enthalpy instantly as it takes the measurements which can be viewed as a table or graphically with line charts.
On-board integrated memory stores over one million measurement values which are managed, comprehensibly archived and analyzed on the 65,000 color, 240 x 320 pixel, thin film transistor liquid crystal display. The included SmartGraph3 software provides a PC-based management and archive system for more thorough analysis of captured data and measurements.
Available interchangeable plug-in intelligent sensors extend the device's functionality for a wide spectrum of applications. Currently available are the SDI Air Flow-Temperature sensor for testing the air tightness of buildings and rooms, SDI Temperature-Humidity sensor for HVAC reference measurement in accordance with ISO9000 Quality Assurance, SDI High Temperature-Humidity sensor for more extreme environments and the Digital TFF20 sensor, designed for HVAC service and maintenance applications. Coming soon is a CO2 sensor and a High Precision Humidity sensor.
In keeping with Lufft's reputation for ruggedness and virtually maintenance-free lifecycle, the Lufft XA1000 was field tested in extreme conditions from -4 degrees Fahrenheit (-20 degrees Celsius) to 140 degrees Fahrenheit (60 degrees Celsius) and at heights of 4,000 meters above sea level, demonstrating the all-digital device delivers accurate results in any weather or environment. For added durability, the robust touch screen color display is constructed of scratch and break-resistant tempered glass and the device features rubberized sides for protection and sure grip.
"Our goal in designing the XA1000 was to create the 'smart phone' of handheld measurement devices, so the unit is completely controlled by a large touch screen color display and a directional pad, providing a very intuitive interface for users," stated Klaus Hirzel, Lufft Chief Executive Officer. "In addition to setting a new standard for handhelds, the XA1000 represents an innovative platform that we will continue to offer more sensors and features for based on customer requirements."