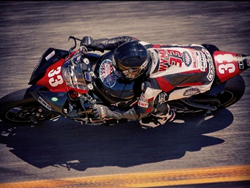 Plymouth,WI (PRWEB) March 19, 2014
Kyle Wyman has plenty to be happy about after participating in his events at Daytona's International Speedway. The weekend saw Wyman aboard the Revolution Performance sponsored Harley Davidson XR1200 for the Vance & Hines XR1200 series and the Millennium Technologies Yamaha YZF-R6 for his Daytona 200 debut.
Quick off the start, Wyman swapped positions several times against his opponents, but could not be stopped from taking home his third victory in the history of the XR1200 event.
After his success with the XR1200 series, Kyle was set to make his debut in the Daytona 200. Wyman finished the race in 6th place, marking a great start to his 2014 racing season.
To follow Kyle Wyman, visit http://www.facebook.com/kylewymanfans.
To prepare your bike ready for riding season visit http://www.mt-llc.com