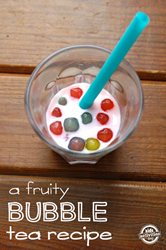 The tasty morsels are loaded with nutrition.
Dallas, Texas (PRWEB) May 09, 2014
Water beads are popular. A healthy summer drink and fun play ideas for 3 year olds have been released on Kids Activities Blog.
Moms have been hesitant to use the popular water beads in sensory play out of concerns for kids ingesting some. Edible water beads are the perfect alternative. Once the kids discover the fun, they will be asking for more and more.
They are terrific for weight gain, too. The beads are prefect for a child who needs to gain weight to recover calories after a string of illnesses. These tasty morsels are loaded with nutrition.
Making edible water beads is easy. Simply purchase large tapioca beads. They come in either rainbow pastel colors or black. Kids may prefer the rainbow colors so the drink is more colorful.
Simply boil 2 cups of water for every one cup of beads. After the water has been brought to a boil, pour the beads in, turn the water off and cover. The beads will soak up the liquid in about 20 minutes.
Once the beads are cool follow the steps to make fruit tea with jello. The kids will love to play and drink away their colorful beads.
The fun activities for 3 year olds are handpicked by seasoned Moms. They are also easy to do with items found around the house. The fun activities include yarn family portraits, potato print monsters, toilet roll dolls, and salt dough mosaic tiles. Making styrofoam fishes in a cardboard box aquarium is a really simple and fun craft perfect for home and the classroom.
Making and painting with citric fizz combines both, a fun science lesson and an art project. A variety of fun felt activities and craft tops the list.
For detailed instructions and to get additional fun ideas, check out Kids Activities Blog this week. Come get inspired to have a blast together with the kids this week.
About Kids Activities Blog
Kids Activities Blog is a website created by two moms (who collectively have 9 children), Holly Homer and Rachel Miller. Their new book published by Page Street, 101 Kids Activities That Are the Bestest, Funnest Ever! will be released June 10. It is currently pre-selling on Amazon and Barnes and Noble. Kids Activities Blog is an interactive website that publishes fun things to do with kids twice a day. It is an amazing resource for moms, dads, grandparents, caregivers and teachers to find kid-friendly activities that create memories and sneak learning into the fun.