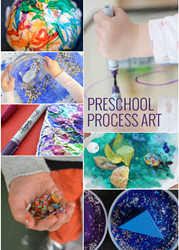 Let the kids create a winder wonderland out of salt.
Dallas, Texas (PRWEB) March 19, 2014
Art is all about having fun. Process art projects and unique outdoor activities have been published on Kids Activities Blog. Let the kids have a blast creating unique art and having fun outdoor on rainy or shiny days.
Process art is all about the journey of the project, not the destination. What appears as the end result is not what is important, but instead the creativity of the child. Simply give the kids an inspiration and the materials and let them explore and form whatever they desire.
Give the kids a set of wooden blocks and paint. They can use the blocks to stamp on paper. Let the kids create an outer space mural, a winter wonderland out of salt, or let them make fabulous paintings on mirrors. The list is endless.
There is so much good from playing outside. If one waits for the perfect weather, the kids may never get to play outside. The fun and easy ideas include making a stick alphabet and building a backyard volcano.
For the backyard volcano, put special ingredients in a plastic bottle and pile some dirt around it to form the volcano shape. Add in the secret ingredient and let the kids have a blast observing the cool volcano.
Teach the kids about animal tracks with the list of ideas on Kids Activities Blog. Creating art out of nature items and over 50 picnic tips will make any outing fun for the entire family.
Teaching the kids about buoyancy is easy by playing with tin foil and water in an outside tub.
For detailed instructions and to get addition ideas, check out Kids Activities Blog this week. Come get inspired to have a blast together with the kids.
About Kids Activities Blog
Kids Activities Blog is a website created by two moms (who collectively have 9 children), Rachel Miller and Holly Homer from June Cleaver Nirvana. It is their daily goal to inspire parents and teachers to play with kids. This interactive website publishes simple things to do with kids twice a day. Kids Activities Blog is a great tool for moms and teachers to find kid-friendly activities that create memories and sneak learning into the fun.