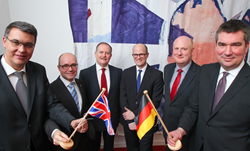 I was keen to visit my colleagues in Dortmund and work with them to highlight some of the exciting opportunities.
Guildford, Surrey (PRWEB UK) 18 March 2014
Chris Cairns, Partner at Alliotts Chartered Accountants, with offices in Guildford and London, paid a visit to Germany earlier this month to meet with fellow Alliott Group members Audalis in Dortmund.
Chris was in Germany to strengthen links with the country and to encourage German businesses consider the South East region of the UK as a viable alternative to London as a location for their expansion into the UK. As a specialist advisor to the technology sector, Chris focused on the various incentives aimed to encourage businesses to expand into the UK. An increasing amount of his time involves advising overseas technology businesses thinking of setting up in the UK and making their move to the UK easy and painless. Typically Chris advises on company structure, statutory requirements and incentives including Research and Development tax relief (R&D) and Enterprise Investment Schemes (EIS) from the perspective of expanding into the UK from overseas. Chris also explained how, by outsourcing financial functions such as payroll, accounting and bookkeeping, overseas companies can concentrate on growing their business in the UK.
Olaf Becker and Dr Michael Kohler from Audalis hosted Chris along with a number of their fellow partners.
Chris said:
"I was keen to visit my colleagues in Dortmund and work with them to highlight some of the exciting opportunities that can already be found in the South East for German companies which together with a highly skilled work force, tech hubs and tax incentives make the region a perfect base for overseas companies."
"It was a real pleasure to meet with our fellow Alliott Group members and I am especially thankful to Olaf and Michael who made a great deal of time available for us, which is a testament both to Alliott Group and also the strength of business relationship and future possibilities for mutual work between the South East and Germany."
Chris also met Wulf-Christian Ehrich of the IHK Dortmund (Chamber of Commerce, Dortmund) and Thomas Westphal, head of the Dortmund Business Development Agency. Their discussions centred on the advantages that the South East has to offer companies that are looking to expand globally.
Following a day with Audalis, Chris met with the Dusseldorf HSBC team to discuss their offering in Westphalia, the area surrounding Dusseldorf and how they work with international businesses. He also visited the UK embassy and met with the HM Consul-General and the UKTI technology sector specialists to discuss how inbound companies can best benefit the UK and the avenues for them to "land" in the UK.
As a result of the visit, Chris has been invited by Audalis to return to Germany in 6 months time to facilitate an information day on setting up or acquiring businesses in the UK.