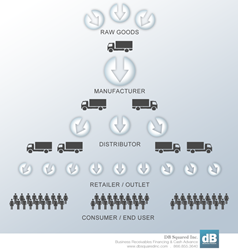 With economic signs pointing to growth, supply chain businesses must be positioned to take advantages of increases in consumer demand.
Seattle, WA (PRWEB) March 18, 2014
Sales at U.S. retailers rose 0.3% in February compared to the month before, according to numbers just released by the Commerce Department reported last week in the Wall Street Journal's article titled 'Retail Sales Rebound After Tough Winter.' Supply chain financing expert DB Squared notes that with retail poised for growth, retailers, distributors and manufacturers may be looking for working capital in order to meet increased consumer demand in the months to follow.
Following a slower than expected holiday season to end 2013 and a January 2014 drop of 0.6%, February's retail gains could be just the beginning of a bounce back in consumer spending.
In addition to retail sales overall, industries such as auto sales and restaurants also reported 0.3% gains in February. This is a welcome turnaround for industries that play a large part in the economy after being negatively impacted in January, due in large part to cold, harsh winter weather that impacted major consumer metropolitan areas.
With Signs Pointing to Growth, Supply Chain Businesses Prepare to Meet Demand
Consumers may well emerge from their winter spending hibernation with a renewed enthusiasm, which could mean additional gains for retailers in the months to come. Restaurants, manufacturers that produce summer clothing, gardening items, summer sports and other seasonal wares as well as residential construction suppliers could soon see a quick uptick in demand.
With economic signs pointing to growth, some manufacturers, distributors, transportation businesses and others in the supply chain may be unprepared to take advantage of new opportunities, due to lack of cash flow. While bank financing may be an option, those seeking supply chain finance alternatives may have additional assets which can be turned into working capital in a matter of days, or even hours.
Supply Chain Finance Tools for U.S. Businesses
Receivables financing (or invoice factoring) is one of the most common options a supply chain business may be able to leverage and quickly raise capital needed to grow. Receivables financing allows manufacturers, distributors and similar supply chain businesses to liquefy customer invoices in order to gain access to working capital immediately, without waiting for a customer to pay.
The business can elect to factor (or sell) one or more of its outstanding customer invoices to a Factoring Company like DB Squared. Fees for factoring can range anywhere from 1% to 6% but having access to anywhere from 90% to 98% of money tied up in receivables in 24 hours – instead of weeks or even months – can make or break an organization's ability to take advantage of growth opportunities.
Another type of in-house transaction financing which could be liquefied and raise working capital for a supply chain business in the U.S. is purchase order financing, which is similar to receivables financing except that an advance is made based on a purchase order, rather than a fulfilled customer order and invoice. Rates for purchase order financing are generally significantly higher than for receivables financing, reflecting a higher risk by the financing company.
Nearing the end of the supply chain, those seeking retail business financing also have in-house transaction financing options. Merchant cash advances allow retailers to access working capital with advances based on their average month's credit and debit card transactions. Even more versatile, business cash advances based on a retailer's total average monthly sales can be used to free up working capital.
Having access to working capital is key when a business comes upon an opportunity to grow, such as taking on bigger orders, serving larger accounts, expanding inventory or even adding new locations and facilities. Those researching supply chain finance options should investigate some of these alternative tools so that they can weigh the pros and cons of alternative business financing against traditional bank loans or lines of credit.
Alternative financing tools like receivables financing and business cash advances generally have higher rates than traditional bank loans; however, they also have advantages, such as being short term obligations (usually less than a year at the most). Since financing is based on self-liquefying transactions, qualification is also less onerous and accessing the necessary business funds can be much quicker when using these supply chain finance tools.
***
By Elizabeth Kraus, Marketing Manager, DB Squared. Founded in 2009 and headquartered in Seattle, Washington, DB Squared is a wholly-owned subsidiary of a 30 year old private consumer finance company specializing in business cash advance financing and receivables financing (or invoice factoring). For more information, visit http://www.dbsquaredinc.com.