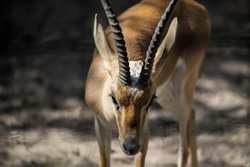 ...their natural defenses against the desert were no match from new threats...
Naples, FL (PRWEB) March 19, 2014
Naples Zoo at Caribbean Gardens just welcomed a trio of endangered gazelles native to the unforgiving and otherworldly dunes of the Sahara Desert. Known as slender-horned gazelles, as few as 250 of these elegant creatures may yet traverse northern Africa's sand seas west of the Nile River. The new arrivals are part of a Species Survival Plan® for these endangered creatures. Visitors to Southwest Florida's only accredited zoo can see these rare gazelles in the African Oasis exhibit living among Greater kudu and impala antelope.
For eons, the small slender-horned gazelles successfully survived in large numbers in their harsh desert environment. Enlarged hooves helped them walk the sand seas. They fed and drank dew at night and early morning – their pale color reflecting heat and helping them blend in while their blood was cooled in modified nasal passages.
But their natural defenses against the desert were no match from new threats from activities like oil development bringing more people and the resulting unregulated hunting. Today, only fragmented remnant populations wander the loose sands of the Great Western and Great Eastern ergs (sand seas) and the smaller ergs on the edge of the central Saharan massifs – regions so challenging they are avoided by modern trans-Saharan routes.
To help these special gazelles, Naples Zoo participates in the Species Survival Plan® in cooperation with other institutions accredited by the Association of Zoos and Aquariums. Like many antelopes, slender-horned gazelles typically live in a herd with a single dominant male, several females, and offspring. Thus to replicate the social units of the wild, accredited zoos cooperate with each other to create bachelor herds at some facilities and breeding herds with a single male at others. Currently, Naples Zoo is caring for a bachelor herd to provide a future for these endangered gazelles.
About Naples Zoo
Naples Zoo at Caribbean Gardens is a 501(c)(3) nonprofit organization cooperating in conservation programs both in and outside the wild for endangered species. The all-day pay-one-price ticket includes admission to both the nationally accredited zoo and 44-acre historic garden along with all shows, exhibits, and the boat ride. ($19.95 adults age 13+/ $12.95 children 3 to 12, under 3 free. Giraffe feeding and camel rides are available for an additional fee. Children under the age of 16 must be accompanied by an adult at least 18 years of age). Naples Zoo welcomes guests daily from 9:00 to 5:00 with the last ticket sold at 4:00 and is located at 1590 Goodlette-Frank Road across from the Coastland Center mall in the heart of Naples. To learn more, visit http://www.napleszoo.org or call (239) 262-5409 or follow the Zoo online at http://www.twitter.com/NaplesZoo or http://www.facebook.com/napleszoo.