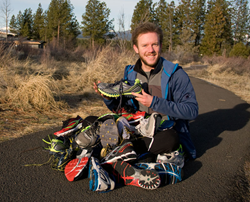 Each product was put to the test through a trial of miles, over fifty miles were run in each model.
Cheyenne, WY (PRWEB) March 17, 2014
OutdoorGearlab, a widely respected website that provides thorough comparison reviews of outdoor gear, just published its first Top Road Running Shoe review. Seven models of highly regarded and top selling shoes were selected, and the tester ran over fifty miles in each model as well as the in models' predecessors in order to test for performance and note differences in the updates of each design. The models were evaluated for responsiveness, landing comfort, upper comfort, stability, breathability, weight, and durability. Each product was put to the test through a trial of miles. Lead tester Jimmy Elam, a competitive runner with over 300 races on his resume, ran at high altitudes in the home of the highly successful Mammoth Track Club, Mammoth Lakes, California, and logged many runs on scenic river paths in Bend, Oregon. With over fifty miles run in each shoe, Elam was able to adequately compare and evaluate each model, eventually deciding on awards in the categories of Editor's Choice, Top Pick, and Best Buy awards.
And the winners are:
Brooks Ghost 6
As a neutral shoe, the Brooks Ghost 6 won the high honor of Editors' Choice award for best road running shoe since it is extremely well balanced across all scoring metrics. Tester Jimmy Elam noted that it has a comfortable and efficient ride, provides full ground contact during landing, and offers a natural heel to toe transition. According to Elam, the Ghost 6 is responsive and comfortable but does fall short in stability. It is less stable than the previous version, the Brooks Ghost 5, due to the removal of a plastic mid-foot support shank in the updated design. However, for neutral runners this is a desirable change.
Brooks Adrenaline GTS 14
As a stability shoe, the Brooks Adrenaline GTS 14 is well-rounded and affordable, earning it the Best Buy Award. Elam states that for over-pronators looking for a reliable high stability shoe, this model performs beautifully. The addition of a Progressive Diagonal Rollerbar provides dense posting and pronation control in the midsole, correcting inefficiencies in a runner's stride. While offering stability, Elam notes that the shoe simultaneously provides adequate landing comfort and a high degree of responsiveness, meaning that the shoe is not overly cushy. Too much cushion can suck up the bounce as a runner moves forward. Sold at a reasonable price, this shoe provides wallet-friendly performance.
Saucony Kinvara 4
The Saucony Kinvara 4 earns a Top Pick award for a lightweight racing flat. OutdoorGearLab gives this award to standout performers for specific applications, and in this case it is for a lightweight shoe that allows a runner to be fast on race day. The Kinvara 4 is a neutral shoe with a minimal 4 mm heel to toe drop, and the pair weighs 7.7 ounces for a men's size 9. Elam notes that this model offers a natural, responsive feel with just the right amount of cushion for a comfortable landing. Since this shoe leans towards minimalism, Elam suggests gradually adjusting to this shoe or others like it, but feels that it can be used for any distance from a 5k to a marathon.
Asics Gel-Kayano 20
Additionally, a second Top Pick award was given to the Asics Gel-Kayano 20 for a high performing stability shoe. According to Elam, the Gel-Kayano 20 is a lightweight and comfortable shoe that provides the necessary support for over-pronators. The shoe features gel cushioning in the rear and forefoot, allowing for noticeable plush landing comfort but a slightly slower stride turnover than other stability shoes. Elam suggests this shoe for people who need a lot of support, including walkers and heavier runners.
The complete review provides a detailed comparison between seven different models of shoes and also offers the author's notes on what differences are found in previous and current models of each design. This well-researched and detailed review can adequately guide a customer to find the ideal shoe for his or her running style and preference. For a reader that is interested in more information on how to purchase running shoes, there is an accompanying Buying Advice article with more information on important considerations for choosing the ideal footwear for running.
OutdoorGearLab, LLC is based in Cheyenne, Wyoming. The company's mission is to solve purchasing decisions by creating the world's best outdoor gear reviews. The website, http://www.outdoorgearlab.com, is a free resource for outdoors enthusiasts who actively engage in hobbies such as running, hiking, climbing, biking, skiing, backpacking, and camping. The team performs rigorous side-by-side tests of gear in different categories and publishes the results in comprehensive reviews complemented with photos and videos. Each product is scored across a range of weighted categories relevant to its use, competing products are then ranked, and awards are given to top performing models.
Media Contact: Chris McNamara - 307.509.0188 - outdoorgearlabpr(at)gmail(dot)com