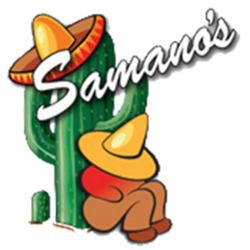 Cudahy, WI (PRWEB) March 27, 2014
For more than 40 years, Samano's Mexican Restaurant has been renowned for serving up some of the most authentic Mexican cuisine found in South Milwaukee. Steeped in the tradition of family, food, and fun; this Mexican Restaurant in Cudahy has always captured the spirit of celebration, no matter the occasion.
The Lent season brings about a time of reflection for many, and the staff of Samano's supports the significance of this time of year. From March 5th through April 17th, the South Milwaukee restaurant will offer a delicious Lenten menu for patrons to enjoy.
These new food specials include a grilled and marinated Cod, that is available as a dinner (served with pasta and veggies) or in tacos. Brand new Shish Kabobs are also on the menu, featuring grilled Cod, avocados, and tomatoes. Those looking for a fresh take on fish and chips will find the Corona-battered Perch to be most enjoyable, along with its sides of fries and coleslaw. Rounding out the Lenten offerings are the Portabella Mushrooms, stuffed with black beans, corn, onions, cilantro, and topped with sliced avocado.
All through Lent, these delicious dishes will be served up, along with all of the familiar menu favorites. Taste why Samano's Mexican Restaurant is considered one of the best Cudahy restaurants. All our encouraged to dine with the Samano's family during lent, but any time of year is a great time to enjoy everything that Samano's Mexican Restaurant has to offer.
About Samano's Mexican Restaurant
Located just one mile from Mitchell International Airport, Samano's offers a friendly atmosphere and authentic Mexican food that simply can't be rivaled. Each day, the staff of Samano's prepares only fresh ingredients to make for the most flavorful foods. For four decades, Grandma Samano's original recipes have remained in tact, and her one of a kind Mexican cuisine is still served daily. Samano's specials include Extra Large Chimichangas, the Super Burrito, and a wealth of tacos and salads. In addition, over 200 margarita options can be found, along with more than 35 types of tequila. Samano's knows that life is all about choices, so all food menu options can be ordered as Ala Carte selections, orders by the plate or as a full dinner. Meals are also available for dine-in or carryout. Visit Samano's Mexican Restaurant for authentic eats, unlike any other.