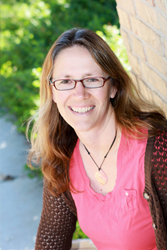 "For many of these students, Jen's work will be the reason why they didn't drop out of school, the reason they continue their education to become successful at their careers and in life. She has given these families the gift of hope." - Moya Smith, parent
Boulder, CO (PRWEB) March 19, 2014
Three years after co-founding Temple Grandin School to fill a need for specialized education in Boulder, Colo. to serve children with Asperger Syndrome, Jennifer Wilger is being honored with the State "People First" Award by the Colorado Special Education Advisory Committee (CSEAC).
The annual State "People First" Award recognizes individuals who have demonstrated the "People First" philosophy in their work with Colorado students with special needs. "People First" award recipients go above and beyond to make a difference in another person's life and recognize a person as an individual first before seeing the disability. Each person who wins this award serves as a role model for all who support and work with Colorado students with special needs.
For Wilger, Temple Grandin School is more than her life's work - it is a personal passion. As the parent of a child with Asperger Syndrome, she has devoted intensive time and study, both in and out of the classroom, to understanding the Asperger learning style. At Temple Grandin School, Jennifer collaborates with staff, students and families to create individual learning plans for each student. Wilger has many years of experience teaching children of all ages and abilities using a strength-based approach. In addition to her work at Temple Grandin School, Jennifer supervises student teachers in special education, participates in several family support networks, and is a frequent guest lecturer on autism and parenting topics.
Wilger was nominated by one of the school's parents, Moya Smith, for her tireless work in ensuring that her students succeed not only in academics, but also in life. "Jen works personally with the kids and families to see the child and not the behavior," said Smith. "For many of these students, Jen's work will be the reason why they didn't drop out of school, the reason they continue their education to become successful at their careers and in life. She has given these families the gift of hope."
CSEAC is a state-level committee mandated by federal and state law. Members are interested in the quality of education received by children/youth with disabilities. The committee includes parents of and individuals with disabilities, educational service providers, administrators and representatives from a variety of related agencies. Award recipients will be honored at a CSEAC ceremony in Denver on April 15.
About Temple Grandin School
Temple Grandin School, named for the world-renowned autism activist, author and animal science doctor, is a not-for-profit independent school located in Northeast Boulder, Colo., serving students in 6th through 12th grade with Asperger Syndrome and similar learning profiles. Temple Grandin School was founded in 2011 and collaborates with the University of Colorado's Department of Speech, Language and Hearing Sciences and California-based Orion Academy to provide a challenging academic curriculum and integrated social skills support to help students realize their full potential in a safe and nurturing environment. For more information, visit http://templegrandinschool.org