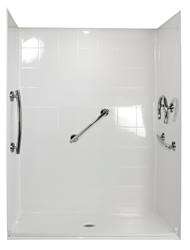 Our Freedom Shower Package is easy to install and provides independence for everyone.
Chicago, IL (PRWEB) March 31, 2014
Ella's Bubbles is recognized for their acrylic walk in bath development, production and distribution for USA and Canadian markets since 2005. Now, in an effort to promote an independent lifestyle, they have added the Freedom Shower Package to their Barrier Free, Roll in Shower and Low Threshold product selections.
"Our Freedom Shower Package is easy to install and provides independence for everyone," said Michelle Shugars, VP of Marketing for Ella's Bubbles. "This shower package is the perfect choice for an individual who requires a bathtub replacement or modification."
The Ella Freedom Shower Package features Grabcessories grab bars with three (3) 16 inch curved polished chrome finish grab bars and one (1) 2-in-1 Shower Valve grab bar in polished chrome finish (not installed to allow for custom positioning). The Grabcessories grab bars have finger grips on the reverse side to increase stability and decrease hand slippage for individuals exiting the shower.
Ella Accessible Showers are manufactured with steel and wood reinforced walls. The strength provided by the wood reinforced walls provides flexibility for seat and grab bar custom installation. The integral self-locking aluminum Pin and Slot System connects shower walls and the pre-leveled shower base to allow for easy front side installation. Once the multi-piece unit is assembled, the precision fit seams become grout lines which can be nicely finished with caulk.
Premium quality material, customizable placement of all shower fixtures, 30 Year Limited Warranty on shower panels and ease of installation make Ella Accessible Showers the perfect selection.
Any questions regarding the Freedom Package should be addressed with the customer service department at 1-800-480-6850 or by email at marketing(at)ellasbubbles(dot)com or by completing the "Contact Us" page on their website.
About Ella's Bubbles, LLC
Ella's Bubbles – (http://www.ellasbubbles.com) a Chicago-based OEM manufacturer and distributor of acrylic walk-in bathtubs and accessible showers – has spearheaded acrylic walk-in bathtub development, production, and distribution in North America since 2005. We offer exceptional craftsmanship, world-class customer service, and creative insights to help both distributors and dealers enhance their brand.
Ella's Bubbles promotes independence and pleasure through elegant design, innovation, and safety solutions – in our client's bathrooms and beyond. As a trusted industry source, we provide the consistency and reliability that businesses and consumers demand when it comes to bath fixtures.
Ella's Bubbles offers friendly, personalized customer support from professionals in our Chicago office – providing fast and effective solutions. We are poised to meet the challenges of the future, and to provide all of our customers with both elegant products and peace of mind.
Michelle Shugars
1-800-480-6850
michelle(at)ellasbubbles(dot)com