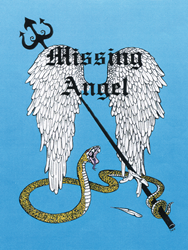 Tampa Bay, Fla. (PRWEB) March 19, 2014
According to the FBI, human sex trafficking is the most common form of modern day slavery.
In her book "Missing Angel," author S.K. Stevens tells a compelling story about a young girl and her guardian angel. Readers follow main character Holly as she battles with the forces of good and evil, falling victim to sex trafficking and enduring life-changing events.
"Holly's story teaches readers that we are not alone and we are heard in this universe," Stevens said.
As Holly attempts to escape the demons in her life, her guardian angel begins to fall for her. A tragic, romantic tale, "Missing Angel" proves the power of faith when facing pain and suffering.
Stevens, a gifted writer who has personally experienced the reality of sex trafficking, draws from her own tragic childhood to breathe life into the struggles of Holly. She hopes to spread awareness about sex trafficking and encourage readers to take a stand.
"Missing Angel"
S.K. Stevens
ISBN: 978-1-4343-6274-2
Retail price: $18.49
Available on Amazon, Barnes & Noble and Author House online bookstores
About the author
S.K. Stevens learned the importance of faith at an early age. After almost losing her life to sex trafficking as a child, she made it her mission to fight back and help others heal their own wounds. She worked in manufacturing for more than 25 years and also had a career in real estate. She currently resides in Winter Haven, Fla.