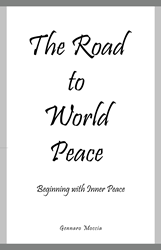 Fort Lauderdale, FL (PRWEB) March 19, 2014
According to Reuters, meditation has been scientifically proven to reduce the effects of anxiety, depression and pain.
"The Road to World Peace" by Gennaro Moccia is a collection of mind-opening revelations that guides readers in their spiritual journey. This easy-to-read compilation offers readers insight about depression, religion, the legalization of cannabis and meditation.
"The book guides readers through my introspective journey and reminds the reader of his blissful childhood state," Moccia said.
Moccia explains that it is easy to get caught up in the stresses of everyday life and lose one's sense of self. His insight provides an opportunity for the reader to truly live and achieve inner peace.
Moccia, a student of spiritual growth and meditation, is passionate about helping people become fully content.
"The Road to World Peace"
By Gennaro Moccia
Retail price: $8.99
Available on Amazon, Barnes & Noble and Balboa Press online bookstores
About the author
Gennaro Moccia was born in Venezuela and raised as an only child. After struggling with typical teenage issues such as depression and low self-esteem, Moccia began writing music and practicing meditation. After receiving revelations about humans and society, he decided to share his insight in his book. He currently resides in Weston, Fla.