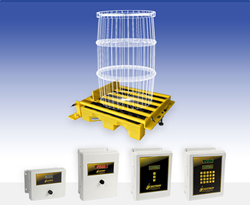 Ideal for large installations with multiple scales, the Model 4042 ECO scale features a proven design which protects the load cell and electronics from spilled chemicals by locating the load cell under the front edge of the base frame.
Plumsteadville, PA (PRWEB) March 19, 2014
Scaletron Industries, Ltd., a manufacturer of corrosion resistant digital and mechanical scales, has introduced a new spill containment scale offering high end functionality at a cost-effective price. With many of the same features and functionality as the popular Scaletron Model 4042 scale, the new Model 4042 ECO spill containment scale meets a broad range of governmental, industrial and municipal applications, and complies with secondary spill containment requirements as specified by EPA, OSHA and other regulatory agencies. The new scale weighs containers up to 1500 pounds. Accuracy is to either 0.5% or 0.1% - 0.25% of full capacity, depending on the type of readout indicator being used.
The Model 4042 ECO scale features Scaletron's proven design which locates the load cell under the front edge of the base frame. The base stands over the spill containment basin. This arrangement assures accurate weighing of drums/cylinders on the scale base and also protects the load cell and electronics from contact with spilled corrosive chemicals. The stainless steel shear beam load cell is designed for longevity and peak performance even in moist or harsh environments.
"In designing the Model 4042 ECO," said Edward Dougherty, president of Scaletron Industries, "our goal was to balance functionality and economy." Dougherty said the new scale is essentially a re-engineered version of Scaletron's successful Model 4042 spill containment scale. "Many customers told us they viewed the Model 4042 as the ideal special project scale, as opposed to a general purpose spill containment scale. For larger installations with multiple scales, we realized we needed to provide a budget friendly scale that still delivered on features and functions."
Dougherty said that the basic engineering changes in the Model 4042 ECO permit cost effective pricing without sacrificing useful features and functionality. "For example," said Dougherty, "in the original Model 4042, a PVC deck lines the scale base to separate it from the spill basin. This protects expensive electronics and sensors." Dougherty explained that in the Model 4042 ECO, the load cell is kept away from the spill basin by design. "Because of the way we build the scale, the load cell is automatically isolated from the spill basin. It's protected from contact with chemicals. We're able to eliminate the PVC deck without affecting the function of the scale and without creating the maintenance issue of having to replace the load cell." Dougherty said these types of modifications don't compromise scale integrity and help make the Model 4042 ECO an affordable workhorse scale for single or multiple scale systems.
The 26" scale base is made of rugged powder coated steel, and accommodates drums measuring from 18 to 26 inches in diameter. Pre-drilled mounting holes facilitate safe, secure installation. A steel guide rail running along the back edge of the scale base assists in centering cylinders for accurate weighing. The back of the scale base frame is hinged so that users may readily pivot the scale off of the floor for easy cleaning underneath. Re-leveling the scale is accomplished with an easy-access leveling foot on the front edge of the base frame.
A 3.5 digital display with a 4-20 mA output signal is standard with options for a 4.5 digital display or a Scaletron 5-digit display chemical process controller. In applications where large numbers of chemical containers will be weighed, a dual digital display or a multi-channel controller may be used to handle the multiple inputs. Scaletron controllers allow for seamless integration of multiple digital and analog outputs enabling discrete readings of each individual scale. Scaletron scale electronics are housed in NEMA 4X, UL-approved enclosures.
Specialists in designing and manufacturing corrosion resistant scales and accessories for over 30 years, Scaletron has designed the Model 4042 ECO for use in harsh or caustic environments indoors or outdoors. For more information on the new Model 4042 ECO spill containment scale please phone Scaletron toll free 1-800-257-5911. The Scaletron web site also offers detailed information including data sheets, drawings, OEM manuals and bid specifications: http://www.scaletronscales.com.
About Scaletron Industries, Ltd.
Scaletron Industries, Ltd. is the industry leader in corrosion resistance technology for scales used in the harsh environments of the municipal drinking water and wastewater treatment industry, as well as for use in industrial water and wastewater treatment. Scaletron Industries has been manufacturing electronic base scales since 1983 and manufactures a full line of electronic scales including cylinder, ton cylinder, drum, tank, platform, spill containment and gas cabinet for use in many different applications. With accuracy to 0.1%, Scaletron scales are commonly used in the water treatment industry for weighing chlorine, sulfur dioxide, ammonia, hydrogen chloride, carbon dioxide, and other liquid or liquefied gas. Scaletron offers a full, 5-year warranty on all products.