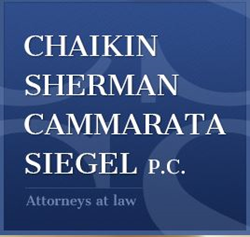 Washington, DC (PRWEB) March 17, 2014
Longevity in the legal profession is quite an accomplishment, especially in a difficult practice area and competitive market. For the Washington, DC personal injury attorneys at Chaikin, Sherman, Cammarata & Siegel, 2014 is a special year that highlights the skill, determination, and commitment necessary to achieve such a feat. This year, the firm's three active partners – Ira Sherman, Joseph Cammarata, and Allan M. Siegel – celebrate practicing law for a combined 90 years.
Attorneys Sherman, Cammarata, and Siegel are each marking significant milestones this year. Partner Ira Sherman will be celebrating practicing law for 40 years; Partner Joseph Cammarata will be celebrating practice law for 30 years; and Partner Allan M. Siegel will be celebrating practicing law for 20 years. Mr. Sherman was first licensed to practice law in New York on September 11, 1974; Mr. Cammarata was admitted in New York on March 7, 1984; and Mr. Siegel first earned his license to practice law in Maryland in 1994.With nine decades of combined legal experience among them, local injured victims and families throughout the Washington, DC Metro area can be confident about placing their trust in the firm's seasoned and accomplished legal team.
Throughout their many years of practice, the firm's legal team has earned a number of professional achievements, including both individual distinctions and numerous victories as Partners at the firm. Together, Partners Sherman, Cammarata, and Siegel have helped thousands of injured victims and families obtain justice and the damages to which they were entitled, and have helped the firm secure more than $250 million in compensation for clients. All three Partners have earned a reputation for being tough and talented advocates, and for caring deeply about the clients they represent.
Aside from what the firm's Partners have achieved during their many years practicing law, their extensive experience proves to be a significant driving force behind their continued success. Because they work as a team and frequently brainstorm about case strategies, the Partners make sure that clients have the benefit of their collective experience. As the firm's many successful verdicts and settlements can attest, this teamwork often proves invaluable to clients in need.
Partners Sherman, Cammarata, and Siegel remain committed as ever to helping seriously injured victims throughout Northern Virginia, Maryland, and Washington, DC recover complete compensation and look forward to many more years of practice. More information about the firm, the firm's Partners, and the cases they handle can be found here: http://www.chaikinandsherman.com.