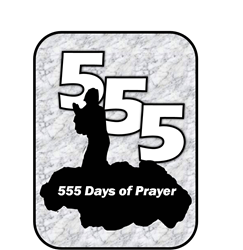 Martinez, California (PRWEB) March 18, 2014
The organizers of "555 Days of Prayer to Save America" are calling for special prayers for the recent victims of anti-Christian violence in Nigeria. Hundreds of Nigerians have been killed in recent attacks, including more than 100 in attacks on three villages in central Nigeria, last Friday, March 14, 2014; and 35 in a double bombing in Maiduguri, Nigeria, on March 1, 2014. The recent increase in terrorist attacks has come despite some recent successes in the operations of the Nigerian security forces.
"In recent days," said Robert Berry, spokesperson for "One Church // One Voice," and "Save America Gathering," bloody raids on villages that leave them utterly destroyed have become regular. We need to pray for our brothers and sisters undergoing such a hard persecution."
"One Church // One Voice" has ministry partners in Nigeria, including one who had his church burned and some of his congregants murdered by Islamist militants, during a series of raids in 2013. Reports list the number of dead, thus far, in the insurgency in Nigeria, at 3,800, with over 700 slain in 2014, so far. Over 500,00 persons have been displaced in the conflict, including 300, 000 refugees within Nigeria, itself. In an article in The Observer, published Saturday 8 March 2014 18.31 EST, journalists, David Smith and Gillian Parker, in Abuja, Nigeria, detailed the parameters of the conflict, including, of course religion, culture, climate, demographics, and economics. The article may be viewed, here.
http://www.theguardian.com/world/2014/mar/08/nigeria-state-war-islamist-insurgency. See also this "Voice of America" article, by Heather Murdock, published on March 14, 2014, datelined from Nigeria's capitol, Abuja: http://www.voanews.com/content/un-nigerias-boko-haram-insurgency-increasingly-monstrous-/1871185.html.
Berry, the CEO of the global Christian non-profit ministry, "One Church // One Voice" (tearing down the walls between us...), noted the organization's relief work in Nigeria, saying "I appeal to public generosity and for the kind, love-offering of the faithful to sustain our work, at this time. There is much work we want to do, including church construction, in Cyprus and Nigeria; prayer support, and, humanitarian relief, in India; the renewing our information effort in Ivory Coast (Cote D'Ivoire), and building our worship ministry partnerships, here in Maryland, with Sister Courtney Moseley, as well as with our overseas partners in Scotland, with whom we have previously collaborated on worship ministry activities, and continuation of our public information and publicity efforts for "555 Days of Prayer to Save America," and September 11, 2014's upcoming "Great Wave Offering. To make a PayPal Donation, please use the email, saveamericagathering.org(at)gmail(dot)com. You may also mail a donation to us, at "One Church One Voice, P.O. Box 1095, Martinez, CA 94553-1095. We truly do appreciate your support."
"555 Days of Prayer to Save America" has reached day 378, today. The current 100-day-lag prayer segment of the 555-day long event is at day 23. Reminder: there is a recipe contest for recipes using the 7 blessed crops, from Deuteronomy 8:8. The winning recipe for each ingredient will be published with a One Church // One Voice" or "Save America Gathering" press release. Each winner will also receive an author and illustrator-signed copy of author Robert Berry's lovely family book, "Ephus and the Praying Bushel," subtitle: "Ephus tells the Easter Story." Recipes should be submitted to the contact information associated with this release.