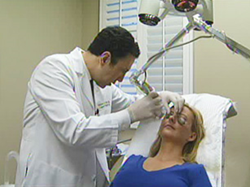 Los Angeles, CA (PRWEB) March 19, 2014
On March 13, 2014, Harper's Bazaar reported in "Copper: The New Skin Saver" that copper is experiencing a resurgence as an ingredient in skin and hair products. Throughout history mankind has sought ways to reverse the aging process. In ancient Egypt, copper was believed to give magical powers to people who wore it. Copper may not possess magical powers, but it may be the next big thing for prolonging a youthful appearance. (see: http://goo.gl/cqfW3k)
"I haven't yet had a patient approach me with questions about the anti-aging properties of copper," says Dr. Simon Ourian, Medical Director of Epione Medical Corporation, "but it's only a matter of time. Reports like this tend to generate a lot of buzz. I read an article last year touting the miracle properties of gold dust and the fantastically expensive spa treatments and creams that incorporated it and haven't heard another word about gold dust since."
According to Harper's, even doctors that are typically skeptical are singing the praises of copper's ability to reverse the clock. Copper supposedly helps to develop collagen and elastin, both of which maintain skin strength, and it promotes the production of hyaluronic acid, which plumps up the skin. Copper also has antibacterial and anti-fungal properties, both of which assist in the prevention of infections. Since the 1960's, copper has been used in skin wound care, and it is now showing promise for the treatment of acne.
The article goes on to report that a Virginia-based copper technology developer has marketed a pillowcase embedded with tiny copper particles. According to the manufacturer, microscopic particles are actually absorbed by the skin while one sleeps leading to a reduction in fine lines and wrinkles. Other companies are adding copper peptides to hair care products to improve texture, shine, and volume.
"I practice evidence-based medicine," continues Dr. Ourian, "and there simply isn't enough rigorous scientific data to back up all these claims. Until that work is done and there is real evidence to back up the hype, I will refrain from recommending copper as an anti-aging ingredient in creams or pillowcases to my patients."
Dr. Ourian has been a pioneer in laser technology and non-invasive aesthetic procedures including Restylane, Juvéderm, Radiesse and Sculptra. These treatments are used for the correction or reversal of a variety of conditions such as acne, acne scars, skin discoloration, wrinkles, stretch marks, varicose veins, cellulite, and others. More information about plastic surgery can be found on Epione's website.