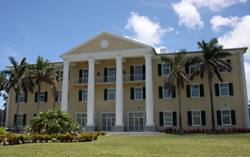 Financial strength is integral to our commitment to treat patients with cardiac cell therapy at the highest standards of safety and care. - Matt Feshbach, CEO, Okyanos Heart Institute
Freeport, Bahamas (PRWEB) March 18, 2014
Okyanos Heart Institute, whose mission it is to bring a new standard of care and a better quality of life to patients with coronary artery disease (CAD) using adult stem cell therapy, announced today it has raised $8.9 million in its Series B offering. Passion Group founder Ali Shawkat led the round and is a visionary entrepreneur-investor with success in a diverse set of industries including cellular services, telecom, media and healthcare.
"Okyanos has the vision, medical leadership, adult stem cell technology and business model to better the lives of millions of patients, their families and society," said Shawkat. "Cell therapy promises to be a new pillar of medicine as it is based on the natural biology of the body."
"This funding brings Okyanos' total funding to $14.2 million. Financial strength is integral to our commitment to treat patients with cardiac cell therapy at the highest standards of safety and care," stated Matthew Feshbach, co-founder and CEO of Okyanos.
Okyanos' cardiac cell therapy utilizes cells known as adipose-derived stem and regenerative cells (ADRCs), processed by Cytori Therapeutics' (NASDAQ: CYTX) Celution™ system, a technology which has been approved and is commercially available in Europe, Australia, New Zealand, Singapore and other international jurisdictions for various indications of use.
The company has procured a state-of-the-art Philips cath lab and is building out a center of excellence capable of treating over 1000 patients per year in Freeport, The Bahamas. Based on the recommendations of the Bahamas Stem Cell Task Force, which thoroughly studied the safety and efficacy of adult stem cell therapy, the Bahamas passed stem cell legislation in August, 2013.
Feshbach further stated, "We have a sophisticated, entrepreneurial group of investors who are like-minded in our purpose to safely improve the quality of life of patients suffering from illnesses such as CAD, using adult stem cells derived from adipose (fat) tissue," added Feshbach. "We appreciate the significant leadership and support of Mr. Shawkat who shares the Okyanos commitment."
The company will begin treating patients with coronary artery disease using their own stem cells in the summer of 2014.
About Okyanos Heart Institute: (Oh – key – AH – nos)
Based in Freeport, The Bahamas, Okyanos Heart Institute's mission is to bring a new standard of care and a better quality of life to patients with coronary artery disease using cardiac stem cell therapy. Okyanos adheres to U.S. surgical center standards and is led by Chief Medical Officer Howard T. Walpole Jr., M.D., M.B.A., F.A.C.C., F.S.C.A.I. Okyanos Treatment utilizes a unique blend of stem and regenerative cells derived from one's own adipose (fat) tissue. The cells, when placed into the heart via a minimally-invasive procedure, can stimulate the growth of new blood vessels, a process known as angiogenesis. Angiogenesis facilitates blood flow in the heart, which supports intake and use of oxygen (as demonstrated in rigorous clinical trials such as the PRECISE trial). The literary name Okyanos, the Greek god of rivers, symbolizes restoration of blood flow. For more information, go to http://www.okyanos.com.