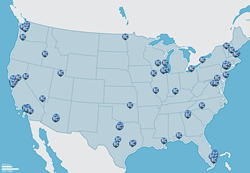 IIUSA supports our Regional Center members, associate members and other stakeholders with a range of advocacy and education activities, including collecting and analyzing data to provide a national perspective on the program's economic impact
Chicago, IL (PRWEB) March 20, 2014
The Association to Invest in the USA (IIUSA), the national not-for-profit industry trade association for the EB-5 Regional Center Program (the "program"), today announced that the organization has reached an important milestone, with membership topping 150 Regional Centers for the first time. IIUSA now represents 157 Regional Centers serving 44 states along with more than 190 associate members that include attorneys, broker-dealers, consultants, developers, economists, financial advisors and migration intermediaries.
An EB-5 Regional Center is an organization that facilitates investment in job-creating economic development projects by pooling capital raised under the EB-5 immigrant investor program. Regional centers can be publicly owned, (e.g. by a city, state, or regional economic development agency), privately owned, or public-private partnerships. While there is significant variation in how Regional Centers operate, in general, Regional Centers:

Identify investment opportunities that will create jobs in local communities, often in partnership with economic development agencies;
assist in marketing those investment opportunities to investors from around the world; and,
ensure that the investment offering complies with federal and state securities laws and SEC regulations as well as specific EB-5 requirements.
"Our strength as an organization comes from our members who are attracting much-needed foreign direct investment to the U.S. and investing in job creation all over the country at zero cost to taxpayers," said IIUSA Executive Director Peter D. Joseph. "IIUSA supports our Regional Center members, associate members and other stakeholders with a range of advocacy and education activities, including collecting and analyzing data to provide a national perspective on the program's economic impact."
An IIUSA-commissioned economic study released in February 2014 found that U.S. EB-5 immigrant investor visa program contributed $3.39 billion to U.S. GDP and supported over 42,000 U.S. jobs during fiscal year 2012. This is more than a two-fold increase from the average annual impact result reported in 2011. A copy of the report, the most comprehensive EB-5 study in the marketplace, can be purchased exclusively from the IIUSA Marketplace for $99 (members earn 50 percent off).
IIUSA's Regional Center Members are listed on the Interactive Regional Center Map, which lists each Regional Center's location, approval date, states served, approved geography and industries, website and more. This map is further searchable by which members have I-526 (Immigrant Petition) and I-829 (Removal of Conditions) approvals.
About IIUSA
Founded in 2005, the Association to Invest In the USA (IIUSA®) is the national membership-based 501(c)(6) not-for-profit industry trade association for the EB-5 Regional Center Program (the "Program"). IIUSA's primary mission is to make the Program a permanent and successful part of 21st century U.S. economic development policy. For more information, visit iiusa.org.