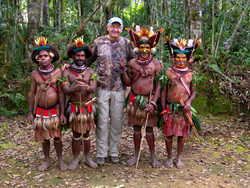 ...The festivals of PNG are reviving the country's vanishing cultures and ancient traditions.
Ann Arbor, MI (PRWEB) March 20, 2014
Award-winning adventure tour operator Journeys International announces a new, more intimate experience with the Huli Wigmen of Papua New Guinea (PNG). The Tumbuna Festival is an annual sing-sing held in the lush Paiyagona Valley. A sing-sing is a gathering of distinctive tribes where each showcases its own culture, music, and dance. The village group performances are typically judged and the winners receive a monetary reward, as well as the distinction and prestige of a victory over neighboring villages. The Tumbuna Festival is significantly smaller than the more famous festivals, such as Mt. Hagen and Goroka. As a result, travelers are afforded a personal, relatively private interaction with the performers and less of a sense of mass organization.
The Huli Wigmen are the iconic native people of PNG. This clan resides in the Southern Highlands and consists of approximately 150,000 members. The Huli are active participants in every one of PNG's festivals. They are recognized by their elaborate Bird-of-Paradise feather headdresses, yellow clay used to decorate their skin, and flourishes of fluorescent accents on face and body. "Witnessing the flamboyant and steadfast traditions of this small ethnic group is an extraordinary and unique cultural experience," Journeys director Will Weber remarks. "And the wonderful thing is the festivals of PNG are reviving the country's vanishing cultures and ancient traditions." In addition to cultural preservation, sing-show show tourism has forced the government to improve infrastructure, such as building safe, reliable roads.
Since 1988, Journeys has been providing successful tours to visit the Huli Wigmen and their largely undiscovered, distant land. In fact, Journeys has offered intimate experiences with unique ethnic groups all over the world since its inception in 1978. Whether meeting the Karen people of Burma or the Himba people of Namibia, Journeys strives to provide the most genuine interactions between travelers and locals. Read more about these experiences on the Journeys blog.
The Tumbuna Festival is an 11-day tour visiting many areas of Papua New Guinea and offered for $5,670 per person land cost. Trips to the festival in 2014 are already full, but space is available for May 2015 on a special departure with Journeys' Pacific Destination Specialist. Contact Lené Minder for more information at lene(at)journeys(dot)travel.
About Journeys International
Journeys International is the longest standing family-owned global ecotourism company in the US. Journeys offers full-service exotic, guided cross-cultural explorations, nature safaris, treks and eco-tours in remote corners of Asia, Africa, the Americas and the Pacific. Founded by current directors Will and Joan Weber in 1978, Journeys boasts an extraordinary record of client and staff satisfaction and several industry awards.