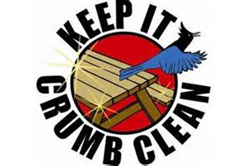 Boulder Creek, CA (PRWEB) March 20, 2014
People come to Little Basin, the group campground of Big Basin Redwoods State Park, to get away from it all. They come to enjoy the peaceful quiet and awe-inspiring wildlife. They camp, hike, relax and play in the redwoods while at Little Basin, and now every camper will be helping to protect an endangered species: the Marbled Murrelet. By being Crumb Clean, each camper will make a commitment to never feed the wildlife. This simple action will have a positive impact on this unique bird.
The Marbled Murrelet is a rare and endangered sea bird, which uses the old growth forest as its nesting habitat. These web-footed birds can travel over 50 miles inland to fly high up into the tree tops, where they will use larger old growth redwood and Douglas fir limbs to lay their single egg for the season. Once the egg hatches, the parents trade off flying back to the ocean for food for their baby chick. When the chick has matured, it will take its first flight ever, and fly all the way from the trees to the seas.
The first Marbled Murrelet nest was found in 1974 in Big Basin Redwoods State Park. These birds are masters of disguise, and by nesting so high up in some of our tallest living trees, it makes them extremely difficult for humans to find. With their feathered predators though, the Murrelets have not been so lucky. Ravens and jays have learned to spot the speckled egg of a Marbled Murrelet and eat both eggs and chicks when they find them. Although this is not their main food source, it is an easy one and the Murrelet population is decreasing significantly because of it.
Here at Little Basin, along with other CA State and National Parks, the Crumb Clean campaign is in full effect. We are updating our food lockers with "Keep it Crumb Clean" stickers. Each camper will sign a Crumb Clean Commitment, and we will talk about our impact at every interpretive program and campfire given in the park. By never leaving food unattended, using food lockers, and never feeding wildlife, Little Basin campers are doing their part to help save the Marbled Murrelet.
For more information on the Marbled Murrelet, and what CA State Parks are doing to help!
About Little Basin
Little Basin - previously the private retreat for Hewlett Packard - is a new addition to Big Basin Redwoods State Park through a partnership with the Sempervirens Fund and Peninsula Open Space Trust.