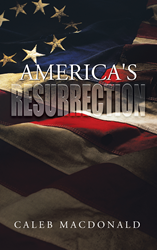 Denver, Colorado (PRWEB) March 19, 2014
Caleb MacDonald faithfully knows how coming calamities are going to affect Americans.
Inspired by 25 illustrative visions he received from God, MacDonald's latest book "America's Resurrection" is a U.S. citizen's guide to surviving future misfortunes and making amends with God before disaster strikes.
"These judgments involve every person in America. Everyone will be affected," MacDonald said.
MacDonald, who has had a life-long personal relationship with God, provides insight on the nature of the future disasters and rationale on why they are going to take place.
He draws from scripture and his prophetic gift to offer believers hope in surviving the comprehensive, precise and authentic prophecies that have already begun to transpire.
"America's Resurrection" delivers a prophetic look into the future and encourages those who seek refuge to begin preparing immediately for the forthcoming disasters.
For more information, visit http://www.prophetcaleb.com.
"America's Resurrection"
By: Caleb MacDonald
ISBN: 978-1-4918-5136-4
Retail price: $16.95
Available at Amazon and Barnes & Noble and AuthorHouse online bookstores
About the authors
Caleb MacDonald has an Associate of Arts Degree in ministerial studies from Christ For the Nations Institute and is also an award-winning fine arts professional photographer. He currently resides in Aurora, Colo.