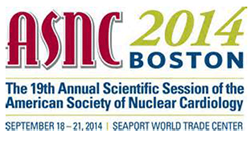 Bethesda, MD (PRWEB) April 03, 2014
ASNC invites all physicians and technologists to submit their original scientific abstracts and challenging case studies for consideration to present at "ASNC2014: The 19th Annual Scientific Session of the American Society of Nuclear Cardiology".
For details on how to submit an abstract or challenging case, click here.
The ASNC2014 educational event will be held on September 18-21, 2014 in Boston, MA, and will include a network of the world's leading physicians, scientists, technologists, radiologists, industry representatives, and other professionals in the nuclear cardiology field.
Session highlights include:

The 2014 Mario Verani Lecture by Dr. Jagat Narula
Numerous case-based sessions focused on concepts fundamental to the practice of nuclear cardiology, and expert panel discussions on cases submitted by attendees
A new offering this year is the opportunity to earn MOC credit
International research presentations showcasing the best work in the field
Policy and practice sessions which will discuss the impact of the changing healthcare environment, and offer opportunities for discussion with experts
A case-based ethics session
ASNC encourages all physicians and technologists to submit original scientific abstracts for consideration as an oral or poster presentation, with all abstracts to be published in the Journal of Nuclear Cardiology.
Young Investigator Competition
Abstract submitters who are in residency/fellows training programs or under the age of 35 have the option of having their abstracts considered for the "Young Investigator Competition." For details, click here.
Challenging Cases Competition
Physicians and scientists who are in residency/fellowship training program or under the age of 35 are invited to submit "Challenging Cases" for an oral presentation. A panel of experts will review and select the best cases from the submissions. For details, click here.
Authors do not need to be ASNC members to submit abstracts. Original scientific abstracts must be submitted online through the ASNC2014 abstract submission site by April 11, 2014. Abstract submission is free of charge, and presenting authors who are Fellows will receive a complimentary registration. All other presenters are eligible for a reduced registration fee. For more information, please reference the submission guidelines.
For questions about the abstract submission process, contact annualmeeting(at)asnc(dot)org.
About the Program
ASNC2014 is an educational activity designed to help imaging professionals obtain the latest information in clinical practice and review cutting-edge scientific advances in nuclear cardiology and cardiac imaging. The overall goal of the meeting is to enhance knowledge by providing up-to-date developments in nuclear cardiology and cardiac CT. ASNC2014 is intended for cardiologists, radiologists, nuclear medicine specialists, practice administrators, nuclear technologists, nurses and other health care professionals with an interest in the field of nuclear cardiology and cardiac CT imaging.
To view the preliminary program, click here.
About ASNC
The American Society of Nuclear Cardiology is the leader in education, advocacy, and quality in cardiovascular imaging, with more than 4,500 members worldwide. ASNC provides its members with a variety of continuing education programs related to nuclear cardiology and cardiovascular computed tomography (CT), promotes accreditation and certification in nuclear cardiology, establishes standards and guidelines for training and practice, and serves as a representative in health policy and the principal advocacy voice for professionals in the field. For the ASNC fact sheet, click here. To visit the website, visit: http://www.asnc.org.