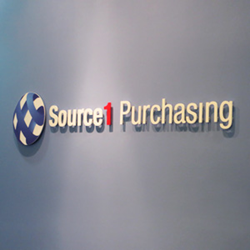 With deep experience in hospitality across our leadership team and staff, we are operators serving operators.
Boynton Beach, Florida (PRWEB) March 18, 2014
As more Hotel Operators and Management Companies are looking for ways to improve their purchasing programs, Source1 Purchasing is responding with more services than a traditional GPO (Group Purchasing Organization).
"Once hotel operators see the added benefits of working with Source1 Purchasing, they are helping to spread the word about us," says Scott Hoffmire, President and CEO of Source1. "As a GPO redefined, we're expected to deliver substantial savings, and we do. But our real hallmark is our service, our analytics and the results that come from smart supply chain management. We make a difference for our customers and that's driving our growth via referrals."
Source1 Purchasing recently moved their Florida office headquarters to a 5,000+ square-foot facility in Boynton Beach to accommodate a growing team of purchasing professionals to support customers. The team will be focused on launching a new purchasing program to serve the lodging, leisure and gaming industries in every facet of their operation. According to Bob Bassett, Senior Vice President, "We are operators and know the importance of providing solutions from parking lot to rooftop. With support from industry leaders, Sysco and Entegra, we're helping operators take their business to the next level."
Ted Ingbur, VP of Sales added, "We're excited about our new Source Force program. The Source Force is an accelerated process to ensure the greatest gain from the program by connecting customers to eight categories of products and services."
"Our new program is strategically aligned with what our customers told us they want." says Hoffmire. "With deep experience in hospitality across our leadership team and staff, we are operators serving operators. We understand how important it is to help our customers protect the promise they make to their customers...every day."
About Source1 Purchasing
Source1 Purchasing has been a leading provider of supply services to the lodging and hospitality industries for more than fifteen years. Focusing specifically on delivering quality products, savings and operational efficiencies, the company offers clients a comprehensive suite of services, empowering operators to access lower prices, reduce operating costs, ensure consistent product quality, and achieve higher customer satisfaction for their customers.