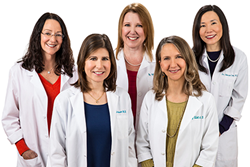 "Never did I think when I went for my routine mammogram that I, at the age of 81, would be a victim of breast cancer. Today, a year after surgery and breast reconstruction, I feel and look great." - Patient testimonial at the Montclair Breast Center
Montclair, NJ (PRWEB) March 19, 2014
Montclair Breast Center, a uniquely comprehensive facility providing annual screening and diagnostic 3D mammography (breast tomosynthesis), breast physical exams, breast ultrasound, breast MRI risk assessment and breast health education has earned the coveted Angie's List Super Service Award, reflecting an exemplary year of service provided to members of this consumer review service in 2013.
The Angie's List Super Service Award honors excellence among service providers, including physicians, who have maintained superior service ratings and reviews on Angie's List throughout the past year. Only about five percent of service companies meet the eligibility requirements to be considered and even fewer actually receive the award. Service company ratings are updated daily on Angie's List. Companies are graded on an A through F scale in areas ranging from price to professionalism to punctuality. Angie's List members can find the 2013 Super Service Award logo next to company names in search results on Angieslist.com.
One of the first Fellowship-trained breast surgeons in the United States, Dr. Nancy Elliott founded Montclair Breast Center in 1989. Dr. Elliott says, "We don't want any of our patients to need chemotherapy, and we're 98% there; our goal is the perfection of early detection and prevention of breast cancer." Dr. Elliott also believes that women should have a dedicated breast doctor and deserve to review results with a Fellowship trained radiologist immediately following their 3D mammogram.
The very personal, patient focused approach to breast care provided by Montclair Breast Center results in consistent patient testimonials such as these:
"I can't express enough how grateful I am to each of you. My recent biopsy and associated visits were a journey met with kindness and compassion. As I reflect upon the entire prospect of a cancer diagnosis I know that I was never alone and that I was in the best hands. The level of care at Montclair Breast Center is unsurpassed."
"My visit to your office was made pleasant and relaxing due to all of you. You eased my anxieties and all of my fears. Since I am a nurse, I think you deserve recognition for how well your patients are treated."
"It's never too late to thank you for the wonderful and caring help Montclair Breast Center gave to me and my worried family during my battle with bilateral breast cancer. Never did I think when I went for my routine mammogram that I, at the age of 81, would be a victim of breast cancer. Today, a year after surgery and breast reconstruction, I feel and look great, thanks to two wonderful surgeons and human beings."
In 1998, Montclair Breast Center became an out-of-network breast center. This decision was made to provide the best quality of care possible, uncompromised by the restrictions and limitations of managed care corporations, resulting in an extraordinary rate of early detection of breast cancer. Visit http://www.montclairbreastcenter.com to learn more.
About Montclair Breast Center:
Montclair Breast Center is a premier multidisciplinary breast center located at 37 N. Fullerton Avenue in Montclair, NJ, specializing in proactive breast healthcare, risk-reduction techniques and the early detection and treatment of breast cancer. Here, a team of nationally recognized breast surgeons and Fellowship trained breast imagers have demonstrated that their approach to breast care provides the best possible rate of early detection. Of patients who began and continued annual screening at Montclair Breast Center and were diagnosed with breast cancer in 2012, 95% were diagnosed at the most treatable Stage 0 or Stage 1. The national average for such early diagnosis in all women is just 60%. To learn more visit http://www.montclairbreastcenter.com.