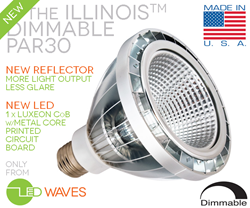 The Illinois™ PAR30 eschews the standard multi-LED array in favor for a single, highly efficient LUXEON CoB LED.
Brooklyn, New York (PRWEB) March 18, 2014
Energy saving lighting supplier and manufacturer LED Waves is proud to introduce the Illinois™ Dimmable PAR30 LED light bulb: the latest addition to their exclusive line of halogen replacement bulbs made in the USA.
Similar in design to the New York 3.0 Dimmable LED PAR38 also recently released by LED Waves, the Illinois™ eschews the standard multi-LED array in favor of a single, highly efficient Chip-on-Board (CoB) LED from the Philips LUXEON line. Its Metal Core Printed Circuit Board (MCPCB) lowers thermal resistance from the smallest light emitting surface in the industry.
The CoB LED structure reduces stress points, which in turn simplifies and strengthens the entire bulb. And by using a single CoB LED, this new PAR30 offers a more concentrated spotlight with crisp beam edges. As an added bonus for professional lighting specifiers, it also provides more uniformity in flux and color qualities from one luminaire to the next.
Other striking differences to LED Waves' new LED PAR30 include a uniquely textured metal reflector (which directs more light to the target areas without adding glare) and a more lightweight heat sink. The reduced bulk makes the Illinois™ a less cumbersome solution over previous LED PAR30 bulbs on the market – ideal for ceiling cans and spotlight fixtures in any residential, retail or hospitality environment.
The dimmable Illinois™ PAR30 LED light bulb is compatible with standard halogen and incandescent dimmers. Each one is built to order in warm white (3000K) or neutral white (4000K) and comes with a five year warranty. Large quantity pricing and availability is available by calling 1(800)986-0169.
About LED Waves
LED Waves is a supplier and Original Equipment Manufacturer of LED lights, representing four family generations of experience in New York City's lighting industry. For over a decade the small company has helped businesses and homeowners save energy and improve performance with custom LED lighting solutions. LED Waves is a Service Disabled Veteran Owned Business.