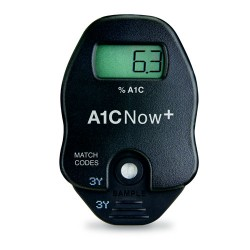 We're very excited about the addition of the A1cNow+ system.
Issaquah, WA (PRWEB) May 01, 2014
QuickMedical is proud to announce the A1cNow+ Meter for diabetes care is available for online purchases at QuickMedical.com and will begin shipping immediately. Polymer Technology Systems, Inc. (PTS), the U.S.-based manufacturer of the CardioChek family of point-of-care diagnostic products, has changed its name to Chek Diagnostics. This follows the December 2013 announcement it had acquired the A1cNow+ family of products from Bayer Diabetes Care. The A1cNow+ system is an important testing device for readily monitoring A1c levels. The tests give healthcare providers and people with diabetes an indicator of average blood glucose over approximately three months.
"There is an established relationship between A1c levels, lipid levels, and the risk for complications of diabetes, and the A1cNow+ products are important tools in helping providers and patients understand how well their diabetes treatment plan is working," said Robert Huffstodt, President and CEO of the new Chek Diagnostics.
The Chek Diagnostics (formerly PTS) A1cNow+ Multi-Test A1c System provides A1c test results in just five minutes. The pager-sized A1cNow+ meter is the first technology to provide healthcare professionals with immediate access to quantitative A1c status -- the gold standard indicator of diabetes management -- without the time, high cost, and complexity of reference labs or instrument-based systems.
About Chek Diagnostics:
Formerly known as Polymer Technology Systems, Inc., Chek Diagnostics is a global provider of point-of-care diagnostic products to the healthcare industry. Headquartered in Indianapolis, Indiana, Chek Diagnostics designs, manufactures, and markets products for distribution in over 120 countries around the world. The company has sales offices in Europe, Latin America, and the Pacific Rim. Its products include the CardioChek PA point-of-care instrument which is marketed to the professional diagnostics industry, the CardioChek cholesterol analyzer for consumer use, and now the new CardioChek Plus analyzer, as well as the A1cNow+ A1c testing system, formerly from Bayer.
About QuickMedical:
QuickMedical is a leader in the distribution and sale of medical equipment and supplies. With great pricing, same day shipping, and a best price guarantee, QuickMedical has the professional medical equipment used by medical and healthcare professionals in their facilities everyday. In 2013 QuickMedical expanded services to include QuickMedical GS as a full division of QuickMedical. Now, federal government customers can order any of over 12,000 items on our FSS/GSA contracts directly from QuickMedical Government Sales.