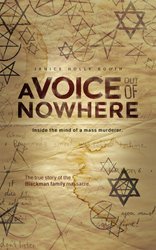 Mass murders committed by those who are severely mentally ill and untreated are on the rise.
Charlotte, North Carolina (PRWEB) March 19, 2014
Author Janice Holly Booth remembers the day Bruce Blackman came into her court-room charged with six counts of murder. She was a court recorder at the time with a keen interest in schizophrenia. The young man, who had no prior history of violence, was sent away for a psychiatric evaluation. Booth decided to follow the story and has never been able to shake it from her memory. She shares little-known details of the massacre in her new book, A Voice out of Nowhere: Inside the mind of a mass murderer, an Amazon #1 best-seller.
"Even though this case is 30 years old, it could easily be pulled from today's headlines, or tomorrow's," says Booth, who lost two friends to the consequences of schizophrenia. "There were multiple signs that this young man was succumbing quickly to paranoia. The voices and delusions were so strong he could neither eat nor sleep, believing he needed to kill his family in order to save the world." Despite the warning signs, Blackman received insufficient psychiatric care and massacred his family during one night of psychotically-fueled violence.
"Telling this story now is important because with the closing of mental institutions across the United States and Canada, we have more mentally ill people living among us than ever before," she says. According to recent research by the New York Times and Mother Jones, mass murders committed by those who are severely mentally ill and untreated are on the rise. "Everyone benefits when people with mental illness can easily access and receive the treatment they need." Without an effective mental health care system in place, Booth asserts that the next Sandy Hook is right around the corner, and there is no way to predict when or where it will happen. "We might as well brace for it," she says, "because it's coming."
A Voice out of Nowhere is a #1 Amazon best-seller in the category of schizophrenia.
BIO: Janice Holly Booth was born in British Columbia and was a non-profit CEO for more than 20 years before becoming a full-time writer and speaker. Her first book, Only Pack What You Can Carry, was published by National Geographic and was a national best-seller.She currently resides near Charlotte, North Carolina.