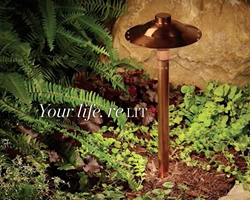 Discerning homeowners can now receive a free nighttime demonstration
Richmond, VA (PRWEB) March 20, 2014
Guided by the findings of primary and secondary research from home category specialist Wray Ward, Outdoor Lighting Perspectives has updated its website for consumer information and lead generation at http://www.outdoorlights.com.
Jane Campbell, Manager of Inbound Marketing at Outdoor Living Brands, parent franchisor company of Outdoor Lighting Perspectives, announced that with the unveiling of the new outdoor lights web site comes the announcement of the company's new mantra – "The Night is Ours™" – which speaks to the brand's market dominance as well as to their clients' point of view.
Ms. Campbell said, "The web experience is purposely designed to be simple and elegant, intriguing visitors to want to know more about us and click through the various levels of the site. Google Analytics has been added to guide us as to who is visiting the site, how much time they are spending there, and what pages are of special interest to them."
Discerning homeowners interested in a receiving a free nighttime demonstration to see the difference professional outdoor lighting can make may now schedule a no-obligation appointment at http://www.outdoorlights.com/design/#free-design-demo.
About Outdoor Lighting Perspectives
Outdoor Lighting Perspectives (OLP) is the world's original and largest full service custom outdoor lighting company. Artfully designed to create warm glows of energy-efficient light to illuminate and beautify the exterior and landscapes surrounding your home, Outdoor Lighting Perspectives can also service or upgrade any outdoor lighting system.
Around the globe 100,000 homes now feature stunning OLP outdoor lighting systems for a wide variety of applications, such as architectural lighting; garden lighting; landscape lighting; underwater, fountain and pool lighting; patio and deck lighting; driveway lighting; walkway lighting and much more.
OLP has worked hard to earn its stellar reputation for uncompromising professionalism, unparalleled service and exquisite lighting design. Of special significance is its pride of responsiveness and attention to detail.
OLP is a local-owner-run business organization with locations across major cities throughout the United States, and as far as Canada, Kuwait and Saudi Arabia.
OLP was the first company in the world to create a franchise network of outdoor lighting specialists, and today remains the largest. By offering franchises, OLP ensures that their clients always deal directly with local business owners fully invested in their satisfaction and fully familiarized with illuminating the local and regional architectural styles.
Outdoor Lighting Perspectives is part of the family of fine franchise companies under Outdoor Living Brands, online at http://www.outdoorlivingbrands.com.