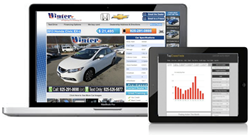 TapClassifieds' multi-platform auto-marketing approach... is designed to deliver measurable results for our car-dealer clients.
San Jose, CA (PRWEB) March 18, 2014
TapClicks, the digital presence company, today unveiled a robust new lead generation program and analytics suite to recruit car buyers to participating automotive dealerships. The digital-merchandising platform captures and analyzes leads to pinpoint lead sources, track lead generation quality and support sales pipelines.
"Auto dealers work with the Star Tribune today to reach its audience of 7 million unique monthly visitors in the upper Midwest," said Jeff Herr, chief operating officer at TapClicks. "We will now more than double their reach across the region to connect with active car shoppers and drive them to our dealership clients."
In 2012, the Star Tribune team partnered with TapClicks to market residential real estate for its local brokers while driving $250,000 to the media company's bottom line, according to Jason Erdahl, executive director of digital at the Star Tribune. "Our first collaboration was a huge success right out of the gate. We know the partnership around the automotive vertical will bring even greater benefits to our clients and to our operation," Erdahl said.
TapClassifieds, the new online merchandising program, has been under development for more than a year in the San Francisco Bay Area, working in concert with local partners at the San Jose Mercury News. The TapClassifieds program is now driving and analyzing tens of thousands of leads for more than 5,000 cars and trucks across more than 40 dealerships in the region.
The TapClassifieds merchandising program engages active car shoppers across many popular online marketplaces and drives these shoppers to specific product landing pages for each vehicle. The landing pages are loaded with vehicle details from among dozens of popular inventory-management platforms including Dealer Specialties, Reynolds & Reynolds, Liquid Motors, vAuto and Dealer Fusion. The TapClassifieds platform also has its own inventory-management system for smaller dealerships.
TapClassifieds captures leads from shoppers who seek more detailed information via email, phone, text messages and through credit applications. These leads are captured and analyzed, then pushed into any of more than two dozen CRM platforms used by the auto dealers including DealerSocket, VIN Solutions, UDC Inc. and ELeads.
Babak Hedayati, chief executive officer of TapClicks, said the company is actively integrating digital analytics and dashboards into an array of online marketplaces, from homes to autos to retailers and service providers.
"The magic is in the analytics. Plug our platform into your program and we'll show you what's working now," he said, adding that "driving leads has become far more intelligent and it comes down to visibility and analysis of success."
TapClicks is a market leader in developing digital presence for businesses, products and services. The company has similar targeted programs to drive visibility for real-estate listings, retail products and for service businesses.
TapClicks also recently launched additional features to its TapClicks Analytics product as part of the latest release. The new release brings forward powerful alerts when a marketing campaign changes in performance. As well, the platform now connects directly with dozens of third-party platforms including Google Analytics, OAS 24/7 ad-server, Twitter and FourSquare.
Founded in 2009, Tapclicks operates out of offices in Silicon Valley, Canada, India and Mexico. For more information, please visit http://www.tapclicks.com. Or contact Jeff Herr or Babak Hedayati at +1.408.725.2942 or by email at info(at)tapclicks(dot)com.