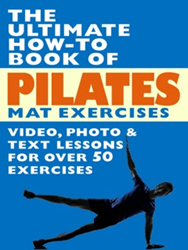 ...the complete book of over 50 mat exercises first developed by Joseph Pilates nearly 100 years ago...
Northampton, MA (PRWEB) May 27, 2014
PilatesLessons.org presents a new and comprehensive instructional ebook featuring the original athletic style of Pilates. Over 50 Pilates mat exercises are presented in HD video, photos, and text for every learning style featuring the advanced certified Pilates instructor, Bob Hannum and his quick, easy, and safe teaching method for any age and fitness level. This is for those who have never worked out before as well as experienced athletes who want to add Pilates to their conditioning program.
This ebook is available at Barnes & Noble.
These lessons are specially designed for those who want to try Pilates but heard it's too difficult or too expensive, or think they are too out of shape, too inflexible, or too old. This is also targeted for people who want to exercise but can't find the time, because each brief lesson can be done at home or during a work break. No equipment or gym is required.
Pilates is nearly 100 years old and is the most popular exercise method worldwide. Physical therapists and elite athletes endorse it. Results can be achieved in just days - more strength and a taller posture with greater balance, flexibility and energy.
Bob Hannum M.Ed is the author of several books, videos, and articles featuring the original athletic Pilates style of mat exercise. His website, PilatesLessons.org, offers free beginner lessons online. He also provides free daily exercise news, tips, and motivation at Facebook.com/PilatesWithBob. He is an Advanced Certified Pilates instructor with 40 years of experience, and his teacher is the 'Pilates Elder' Mary Bowen.