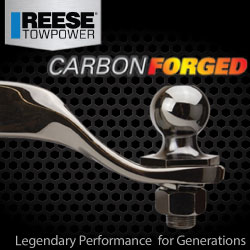 If you're towing a trailer or RV, make sure you're using a high quality REESE® Towpower™ receiver hitch and the CARBON FORGED™ ball mount.
Solon, OH (PRWEB) March 19, 2014
Even if the snow is still falling, now is a great time to think about your upcoming spring or summer road trips. What better way to beat the winter blues than planning your drive down Route 66 with a camper or boat hooked to your trailer hitch? CARBON FORGED™ and REESE® Towpower™ put together a list of travel tips to help you get started:
1. Choose your destination.
Whether you're a seasoned road-tripping pro or a novice, everyone needs to start at the beginning: where do you want to go? Is the ideal trip for you and your family really a sightseeing trip without a clear destination? Maybe you always wanted to drive the Road to Nowhere, see the West Coast, ride down I-95 to Florida or up to the Northeast; or, maybe you want to hit the famous diners and drive-ins across America and see the Grand Canyon. There are endless options but don't let that overwhelm you. Check out roadtrippers.com for some great guides and information on where to go and what sites to see. They also have a tool to plan your trip, start to finish. Once you decide which kind of trip you want to take, get the family involved in deciding which route to tour, where to go and what to do there.
2. Plan your expenses accordingly.
Creating a budget for your road trip can seem like a no-brainer, but once you're out on the open road, expenses can add up. While you're feeling free and enjoying yourself, you are far more likely to let unnecessary purchases slide ("Sure son, you can buy whatever you want!"). A great app (and website) for calculating road trip costs is travelmath.com. The travel calculator can help you estimate the cost of your trip and give your budget a good starting point. Gas, tolls, food and hotel stays can add up so if you have a trailer or RV (or you can rent or borrow one) that may be a better option. If this option is available, you can pack your own food and not have to pay for lodging, both substantial cost savings.
3. Prepare for a safe and fun trip.
When you are out on the open road, safety should be your number one priority. Prior to taking your trip, make sure your car/truck/RV has been inspected and had a tune up recently. Brakes, battery, oil change and any major repairs should not be left for when you come back; get them taken care of ahead of time to decrease your chances of breaking down. If you're towing a trailer or RV, make sure you're using a high quality REESE® Towpower™ receiver hitch and the CARBON FORGED™ ball mount. REESE® Towpower™, the market leader in towing products, created CARBON FORGED™ and its single one piece weld-free construction, which offers greater towing capacity compared to traditional ball mount bars. With the patented INTERLOCK® hitch ball system, it is simple to assemble using the One Wrench Tightening System®. Pack emergency supplies as well: extra batteries, flashlights, bottled water, cellphone chargers and extra food. It's always better to be prepared when you're out on the open road in the middle of nowhere!
For more information on CARBON FORGED™, please visit: http://www.carbonforgedtough.com.
For more information on REESE® Towpower™, please visit: http://www.cequentconsumerproducts.com/Reese/Reese.htm.
Keep up with the latest from REESE® Towpower™ on Facebook and on Twitter.
ABOUT CEQUENT CONSUMER PRODUCTS:
Cequent Consumer Products, Inc. is the industry leading designer, manufacturer and marketer of innovative consumer goods and automotive aftermarket products. For more than 85 years, Cequent Consumer Products has produced some of the most dependable products on the market including superior-quality towing and hitch systems, trailer components and accessories, wiring, lighting and brake systems, cargo securing, cargo carrying, rack systems, as well as household and industrial brooms and brushes. Our established brands are sold through leading retailers nationwide. Our brands are leaders in the industry and include: REESE® Towpower™, REESE® Carry Power, REESE® PowerSports, Highland®, Aqua-Clear®, Laitner®, Harper®, Rola®, Fulton® and Bulldog®. Cequent Consumer Products is part of the Cequent Americas business unit of TriMas Corporation headquartered in Bloomfield Hills, Michigan. Visit CequentConsumerProducts.com.