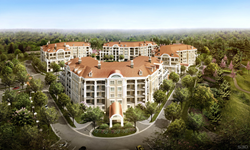 Washington, DC (PRWEB) March 18, 2014
Quarry Springs Associates, a joint venture between 1788 Holdings and IHP Capital Partners, today announced the commencement of construction on the first phase of The Estate Condominiums at Quarry Springs, a 97-unit, luxury condominium development project located on River Road in Bethesda, Maryland, just west of Seven Locks Road.
The first phase of the project will include 50 units in two, five-story buildings and is expected to be delivered in late fall of 2015. Amenities included in the first phase will be a 10,000-square-foot clubhouse, an outdoor pool, a waterfall and meandering stream, extensive landscaping throughout the property, full concierge services, gated access with 24-hour security and valet parking for guests. The average unit size will be an expansive 3,200 square feet, excluding significant terrace space included with each unit. "We designed spacious residences utilizing our direct entry elevator concept to establish a premiere lifestyle in one of Washington's most distinguished neighborhoods," as described by Robert Swedroe the Miami-based architect on his firm's creation. Construction on the second phase of the project is expected to commence in 2016 and will add another 47 units.
Larry Goodwin, a principal of 1788 Holdings said of the project, "We are very excited to have commenced construction of this long-awaited project. The volume of inquiries we have already received suggests that there is significant demand for this well-located, true high end residential condominium product in Montgomery County."
Financing was provided by Apollo Commercial Real Estate Finance, Inc. (NYSE:ARI), a commercial mortgage REIT managed by an indirect subsidiary of Apollo Global Management, LLC. James G. Davis Construction (DAVIS) will be the general contractor on the project.
Sales and marketing for Quarry Springs will be managed by TTR Sotheby's International Realty out of its Chevy Chase brokerage office. All sales inquiries should be directed to Dave DeSantis at TTR Sotheby's International Realty (ddesantis(at)ttrsir(dot)com), and all other inquiries should be directed to John Conley at 1788 Holdings (jconley(at)1788holdings(dot)com).
About 1788 Holdings
1788 Holdings is a Washington DC-based real estate investment company with an investment focus in the DC metropolitan region. The company's capabilities include: acquisition, disposition, asset management, development, and construction of office, retail, residential, and industrial assets. 1788 Holdings is currently focused upon developing boutique residential properties which will redefine the high-end condominium living experience in the greater Washington area. 1788 Holdings is also the developer of The Lauren, a boutique (29 units) luxury condominium project in downtown Bethesda (http://www.thelaurenresidences.com).
About IHP Capital Partners
IHP Capital Partners was established in 1992 and currently has offices in Newport Beach and San Francisco CA, and Leesburg, VA. IHP originates and manages investments in for-sale residential projects for some of the largest pension funds and insurance companies in the U.S., in partnership with select builders and developers in major markets throughout the country. Since 1992, IHP has made more than 240 equity investments totaling more than $8 billion with more than 50 different builder and developer partners in a variety of for sale housing and residential development projects in 16 states, including this latest investment in Quarry Springs through its office in Leesburg, VA. (http://www.IHPINC.com)
About Apollo Commercial Real Estate Finance, Inc.
Apollo Commercial Real Estate Finance, Inc. (NYSE: ARI) is a real estate investment trust that primarily originates, invests in, acquires and manages performing commercial real estate first mortgage loans, subordinate financings, commercial mortgage-backed securities and other commercial real estate-related debt investments. The Company is externally managed and advised by ACREFI Management, LLC, a Delaware limited liability company and an indirect subsidiary of Apollo Global Management, LLC, a leading global alternative investment manager with approximately $161.2 billion of assets under management at December 31, 2013.
ABOUT DAVIS
Founded in 1966, DAVIS serves as a general contractor, construction manager, and design-build partner for base buildings, renovations, residential, sustainable and interior construction in the Washington, DC area. Consistently ranked as an industry leader both nationally and locally, DAVIS was most recently recognized by the Washington Business Journal as one of the area's "Best Places to Work" for the seventh consecutive year. #WorkWithTheBest
Robert M. Swedroe
Robert M. Swedroe earned his Bachelor of Architecture degree from Carnegie Institute of Technology (Now Carnegie Mellon University) and, through a scholarship to study under Paul Rudolph, his Master Degree of Architecture from Yale University. He began practicing architecture in Miami Beach in 1962 as senior design architect for Morris Lapidus, architect of the iconic Fontainebleau Hotel, and opened his namesake firm in Miami Beach in 1974. A frequent award-winner, Robert innovated exceptional design concepts with highly efficient floor plans that provide well-proportioned, view-oriented, functional spaces. He is credited with introducing revolutionary variations of minimal corridor access in place of long hallways in residential buildings and countless private entry elevator concepts incorporating creative design features. He is also a renowned collage artist.
The Sotheby's International Realty network currently has more than 14,000 sales associates located in approximately 650 offices in 49 countries and territories worldwide. TTR Sotheby's International Realty has been the exclusive affiliate for the Washington, DC metropolitan area since 2006. The firm currently has 250 associates with offices in Georgetown, DC; Downtown, DC; McLean, VA, Alexandria, VA and Chevy Chase, MD. For more information, visit ttrsir.com.