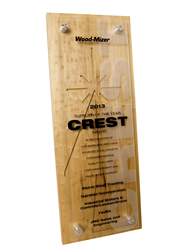 Our suppliers are an essential part of Wood-Mizer's success and growth and it is important to us to formally recognize them.
Indianapolis, IN (PRWEB) March 19, 2014
Wood-Mizer LLC, the world's leading sawmill manufacturer, has recognized five suppliers for the level of support they provided the company in 2013. Each of these companies was recognized with the annual CREST Award for being outstanding suppliers and peak performers for Wood-Mizer. Awardees were:
Sturm Steel of Indianapolis, IN, a provider of steel carburization and hardening services, was chosen for their exceptional quality and customer service for more than a decade of business with Wood-Mizer. Their commitment and ability to adapt to the company's changing needs earned them this award.
Gardner Incorporated is a provider of gas powered Kohler engines and was chosen for their outstanding customer service and sales support, attentiveness to detail, and helping Wood-Mizer keep inventory low and costs down. Also, Gardner's employees work to exceed expectations.
Industrial Motors & Controls/ Leeson/ Grove was chosen for their outstanding customer service, local stocking levels, and exemplary communication efforts. IMC, Leeson and Grove, providers of custom and standard electric motors and gear boxes, helped Wood-Mizer reduce inventory, resulting in cost savings for the company.
JMC Sales and Engineering of Indianapolis, IN was chosen for their very knowledgeable technical support, tooling recommendations, and dedicated service for more than 20 years. JMC has provided Wood-Mizer with invaluable customer service and solutions to increase productivity and efficiency throughout the company.
Fed Ex was chosen for their continued support in delivering Wood-Mizer's product in a quality manner and on time as committed. Not only has Fed Ex assisted Wood-Mizer with shipping solutions, but their integrity and commitment to customers exceeds industry standards.
To establish the CREST Award winners, the Wood-Mizer Purchasing team evaluated each of their suppliers on customer service, overall quality, delivery, cost management, and value-added support. The winners were hosted to a luncheon on March 11, 2014, and presented with a recognition plaque. The Wood-Mizer CREST Award stands for: Corporate Recognition Exemplifying Supplier Tenacity.
Mark Law, Procurement Director, said, "Our suppliers are an essential part of Wood-Mizer's success and growth and it is important to us to formally recognize them. These awards are just a small gesture of our overall appreciation for providing the products that support Wood-Mizer's desire to maintain leadership in the industry."
###
As the leading manufacturer of portable band sawmills for more than 30 years, Wood-Mizer offers an extensive line of portable and industrial sawmill equipment. The company supports its equipment with legendary customer service, blades, and blade maintenance equipment. For more information about Wood-Mizer, call 800.553.0182 or visit http://www.woodmizer.com.