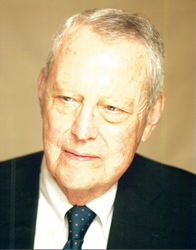 "We all owe a tremendous debt to Dr. Starzl for his pioneering work in organ transplantation, especially for the liver"
Doylestown, PA (PRWEB) March 19, 2014
The Hepatitis B Foundation (http://www.hepb.org) is pleased to announce that it has selected Thomas E. Starzl, M.D., Ph.D., to receive its 2014 Baruch S. Blumberg Prize, the highest scientific honor that it confers.
The Pennsylvania-based foundation is the only national nonprofit organization solely dedicated to finding a cure for hepatitis B. The board of directors unanimously selected Starzl for the award, which will be presented at its annual Crystal Ball Gala fundraiser on April 11.
"We all owe a tremendous debt to Dr. Starzl for his pioneering work in organ transplantation, especially for the liver" said Dr. Timothy Block, president of the Hepatitis B Foundation and professor of Microbiology at Drexel University College of Medicine. "Not only has his work been among the most important in the field, but his contributions to saving the lives of hepatitis B patients through liver transplantation, in particular, continue to inspire all of us as we push toward the discovery of a cure."
Born in 1926 in LeMars, Iowa, Starzl earned a master's degree in anatomy and a doctoral degree in neurophysiology and a medical degree with distinction from Northwestern University Medical School in Chicago in 1950 and 1952, respectively. He went on to lay the foundations for the modern practice of organ transplantation, performing the first human liver transplant in 1963 at the University of Colorado Health Sciences Center. He persevered in the face of public criticism when the first transplants failed, and in 1967, his first successful human liver transplant gave those suffering from liver disease hope for a new life.
In 1981, Starzl moved to the University of Pittsburgh; three years later, at the Children's Hospital of Pittsburgh, he performed the first simultaneous heart and liver transplant on a six-year-old girl. Retired from clinical and surgical service since 1991, Starzl lives in Pittsburgh, where he is the Distinguished Service Professor of Surgery at the University of Pittsburgh School of Medicine. His legacy also lives on in the program named in his honor, the Thomas E. Starzl Transplantation Institute of the University of Pittsburgh and the University of Pittsburgh Medical Center (UPMC).
The Hepatitis B Foundation's scientific prize is named for co-founder Dr. Baruch S. Blumberg, who won the 1976 Nobel Prize in Medicine for his discovery of the hepatitis B virus in 1967. Past recipients of the foundation's Blumberg prize include Drs. Howard Koh, U.S. Assistant Secretary for Health, and Robert Purcell, Chief, Hepatitis Viruses Section, National Institutes of Health.
"The awarding of this prize demonstrates our recognition of and appreciation for the outstanding contributions Dr. Starzl has made in opening an entire new field of medicine that is now saving thousands of lives of hepatitis B patients who benefit from successful liver transplants," Block said.
The award will be presented at the foundation's Crystal Ball Gala, which attracts hundreds of leaders from the community, academic institutions, and government, as well as healthcare and biotech company executives. This year's event, the "Cherry Blossom Extravaganza," will begin at 6 p.m. at the Warrington Country Club, Warrington, Pa., and will include an evening of dinner, dancing, a silent auction and awards ceremony.
At the Gala, foundation leaders also will present the 2014 Community Commitment Award to Teri and Jim Holton, of Doylestown, who have generously supported the Hepatitis B Foundation for years.
To buy tickets to the gala or to donate to the foundation, please visit the foundation's website or call 215-489-4900.
About the Hepatitis B Foundation: Headquartered in Doylestown, Pa., the Hepatitis B Foundation is the only national nonprofit organization solely dedicated to finding a cure for hepatitis B and improving the quality of life for those affected worldwide through research, education and patient advocacy. To learn more, go to http://www.hepb.org, read our blog at http://wp.hepb.org, follow us on Twitter @HepBFoundation, find us on Facebook at http://www.facebook.com/hepbfoundation or call 215-489-4900.