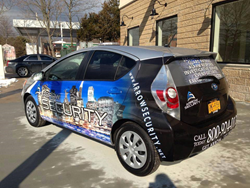 "We know that we unfortunately live in a world where threats are constantly evolving, we show our dedication to staying on the cutting edge of safety standards through updating our total image."
Smithtown, NY (PRWEB) March 19, 2014
This Season Arrow Security did some spring-cleaning, and spruced up their new rides. The company took their cars from drab to fab. With the use of the latest technology, a new logo, and a mural depicting the best city in the world, on their cars, the company is in full bloom.
For Arrow Security, the new revamping of their company image was just one aspect of company's new image. They have implemented new training programs for their guards, making them the most qualified for the job. Not only do their cars look great, but also the security officers driving them are better than ever. Not only are the guards more experienced, but they are also sporting new uniforms, making them look as sharp as the cars they drive.
More intensive training makes for more qualified guards. Safety is key, and that is exactly what Arrow's goal is, better security for safer Long Island communities.
"Arrow Security as a whole has become more advanced than any other security company around. We are implementing new ways to improve already good relationship between our clients as well as communication within the company. Our plans are not only to look good in the new uniforms and behind our great cars, but always provide unmatched professionalism and great customer service. Arrow Security understands that the world is evolving and we will continue to grow with it." - Ula Gradowska; Arrow Security