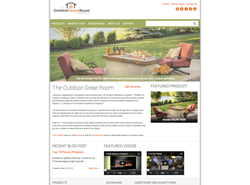 Minneapolis, MN (PRWEB) March 18, 2014
The Outdoor GreatRoom Company, a leading manufacturer in outdoor living products, has announced the redesign of their website, outdoorrooms.com.
The main goal of the redesign was to make navigation for customers and dealers easier while browsing the site. An improved photo gallery, updated home page, and a new modern design through out are key features. A sliding gallery on the home page shows off gas fire pits & fireplaces, outdoor kitchen islands, pergolas, and electric fireplaces, some of the companies key products.
Customers can find detailed support resources on past and current products, including manuals, FAQ's, brochures, and any technical bulletins that are related to each product category. This is meant to help the customer with any questions they may have about a past or future purchase, as well as help current dealers stay up to date with the most recent literature and new product information.
ABOUT THE OUTDOOR GREATROOM COMPANY
The Outdoor GreatRoom Company™ (OGC) manufactures unique, upscale products with design appeal for indoor and outdoor living spaces. Products include outdoor fire pits and fire pit tables, pergolas, outdoor kitchen islands, indoor/outdoor fireplaces (gas, electric, gel), grills (gas and electric), outdoor patio furniture, and accessories. Visit OutdoorRooms.com for more information.