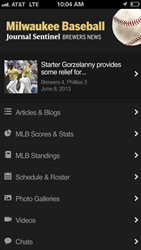 Milwaukee, WI (PRWEB) March 18, 2014
Whether enjoying Spring Training in Maryville, Arizona, or just interested in keeping up with your favorite Milwaukee baseball team from the comfort of home, the Milwaukee Journal Sentinel's baseball app brings the latest stats right to your mobile phone.
Stay up to date on the Milwaukee Brewers, whether in Milwaukee or traveling with the team to the Phoenix area with Milwaukee Baseball, the Journal Sentinel's mobile site for smartphones. Get daily baseball scores and stats on Brewers players. Plan ahead for the regular season with schedules, articles, blogs, videos, chats and more.
The MJS Baseball app is available at no cost at the iPhone and Google Play stores; just search for Journal Sentinel Baseball to access the app:

MJS Baseball app is the one-stop-shop for everything baseball this season.
About the Milwaukee Journal Sentinel
Journal Sentinel Inc. publishes the flagship Milwaukee Journal Sentinel newspaper as well as a range of other print and electronic products, including JSOnline.com, primarily serving people and businesses in southeast Wisconsin. JSEverywhere offers a bundled subscription for both print and digital or digital-only subscribers with added applications for both mobile devices and tablets. Journal Sentinel is committed to providing news coverage that reflects the ever-changing world and fulfills the needs of readers and advertisers both in print and online.
In addition to Sports Show, Journal Sentinel hosts Land the Big Gig®, a nationalwide music talent search and Wine and Dine, Wisconsin's largest showcase for area restaurants, chefs and foodies of all types.