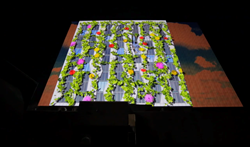 "We understand the importance of presenting a unified front to clients, and we want to be part of your team." - J Matthew Nix, Project Lead for Chicago Projection Mapping
Chicago, IL (PRWEB) March 18, 2014
Chicago Projection Mapping (CPM), a Chicagoland-based content and 3D projection company, announced today the inclusion of new content services for interested agencies and creative groups. Building upon the company's internationally-known reputation for exceptional projection displays and a strong background in agency-level content creation, this announcement continues CPM's reputation as the midwest leader for projection mapping services. Interested groups are invited to contact Chicago Projection Mapping at their new Bensenville offices by phone at (630)-620-0000.
Building upon continued contact from agency partners seeking content creation for planned projection mapping displays, Chicago Projection Mapping took the initiative to launch these content services for new and interested collaborators. This allows CPM to provide top-tier content based on an agency or creative group's vision, while allowing the agency to plan events using existing or recommended AV providers. The CPM team has taken additional steps to improve and streamline the unique process behind projection mapping, including project consultation, unbranded review processes, and by-request on-site services. This new service is offered in conjunction with Chicago Projection Mapping's full-service mapping offerings.
"We get calls from agencies looking for a creative partner who can understand not only the creative and technical aspects of a display, but also the value of client relationships", said J Matthew Nix, project lead for Chicago Projection Mapping. "We understand the importance of presenting a unified front to clients, and we want to be part of your team."
Chicago Projection Mapping remains at the forefront of the national projection mapping community. In addition to agency and creative collaboration, CPM remains an agile and versatile firm, including experience in architectural projection mapping, projection for live events, 3D and 4D mapping displays, and projection mapping for trade shows and corporate events. For inquiries or a free quote, please email info(at)ChicagoProjectionMapping(dot)com.
About Chicago Projection Mapping:
Based in Chicago, IL, Chicago Projection Mapping is a full service content creation and 3D projection mapping company, serving the corporate, event, meeting, and convention sectors. For more information, please visit http://www.ChicagoProjectionMapping.com, or call 630-620-0000.