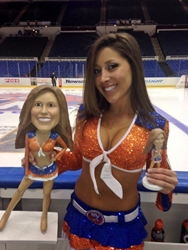 After receiving thousands of requests for custom bobbleheads in professional NHL team jerseys, AllBobbleheads.com decided to approach the NHL with this very unique opportunity
Long Island, New York (PRWEB) March 18, 2014
AllBobbleheads.com, the world's largest retailer of custom bobbleheads, has signed a license agreement with the National Hockey League (NHL®) to manufacture and distribute custom bobbleheads featuring NHL team marks, its first with a professional sports league. Hockey fans and memorabilia collectors will be able to order personalized bobbleheads that incorporate a person's likeness on a bobblehead body wearing an NHL® jersey.
Hockey fans can choose bobbleheads featuring jerseys for each of the 30 NHL® teams and select from up to eight designs. Customers can add a name to the back of the jersey, as well as choose skin tone, hair and eye color and more. After selecting the design and customization options, customers can upload a headshot photo and a personalized bobblehead will be created with a head modeled after the picture.
"After receiving thousands of requests for custom bobbleheads in professional NHL team jerseys, AllBobbleheads.com decided to approach the NHL® with this very unique opportunity," said co-founder Andrew Hazen. "Even though we've been in the bobblehead business for more than 10 years, our new relationship with the NHL® makes us feel like a startup once again and we cannot wait to put smiles on millions of NHL® fans."
Custom NHL® bobbleheads can be ordered through AllBobbleheads.com. Gift cards that can be redeemed at the website are also available at the New York Islanders team store.
About AllBobbleheads.com
Located in Long Island, NY, AllBobbleheads.com was established in 2003 and is the world's largest retailer of custom bobbleheads. The bobble heads are 100% hand sculpted to match the likeness of the customer's photo. For more information visit AllBobbleheads.com, call 516-933-8900 or contact andrew(at)AllBobbleheads(dot)com