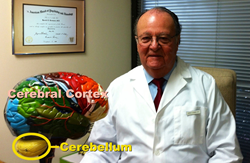 No expert, however gifted, and no diagnostic procedure, however sophisticated, could ever come close to determining the voluminous insights offered by dyslexic patients spontaneously and/or upon careful questioning and examination.
New York, NY (PRWEB) March 18, 2014
A recent study published by Current Biology indicates that video games improve learning skills in dyslexics. Although many explanations are possible, these important results appear highly consistent with the cerebellar theory of dyslexia first reported by Dr. Harold Levinson, a well-known neuropsychiatrist and clinical researcher.
"By simply listening to and examining dyslexics," states Levinson, "I was able to recognize they had an oculomotor tracking defect causing them to lose their place when reading and so benefitted by using a finger or pointer, larger and darker typeset and tinted lenses." In addition to benefitting from ocular fixation and tracking exercises similar to video games, Levinson later discovered that 75-85% of dyslexics of all ages rapidly and often dramatically improved when treated with inner-ear/cerebellar enhancing medications capable of stabilizing "dizzy" signals.
Based on the research of Nobel Laureate Sir John Eccles, Levinson theorized that the cerebellum fine-tunes all signals entering and leaving the brain as well as modulating ocular tracking. Improvements may thus occur in dyslexics by methods which enhance the cerebellar capacity to fine-tune signals (eg. video games) and/or enhance signal recognition (eg. finger pointing, large typeset, etc.). To better understand this concept as well as the video game data, a brief history of dyslexia and Levinson's research seemed essential.
Ever since bright reversal- prone children with reading, writing, and spelling problems were first recognized in 1897, experts immediately concluded that dyslexia was due to a failure of the thinking brain or cerebral cortex to comprehend the clear reading signals received. However, this brain damage theory failed all attempts at neurological validation. And it could not explain 99.9% of the clinical characteristics evidenced by dyslexics.
Starting from scratch in the late 1960's, Levinson began asking bright dyslexics to explain their varied symptoms while examining them neurologically. A few thousands dyslexics later, a simple solution hidden in clear sight materialized: the thinking brains of dyslexics appeared normal and superior, but their reading and related signals were found scrambled or "dizzy" due to a fine-tuning defect within the inner-ear and cerebellum.
Dyslexia was eventually recognized by Levinson to be a syndrome comprising scores of diverse symptoms which affected reading as well as writing, spelling, math, memory, space and time, speech, concentration, balance and coordination, sensory processing, anxiety, etc. The severity of their reading and non-reading symptoms often varied from severe to overcompensated, indicating a favorable prognosis. As a result, it became crystal clear that dyslexia could not be reliably defined by only severe degrees of reading impairment.
Levinson's independently validated research indicated that 98% of dyslexics evidenced only balance and coordination symptoms and neurological signs diagnostic of a dysfunction within the inner-ear and its supercomputer, the cerebellum. Most had ocular coordination difficulties in fixating and tracking words when reading and benefited when using a pointer or from sensory-motor training. No dyslexic had an irreversible reading comprehension disorder of primary cerebral origin. Nor were any found to have neurological signs of a primary cerebral dysfunction. Levinson states, "I was forced to reason that dyslexia and its many diverse symptoms of varying severities were most probably of an inner-ear/cerebellar origin and that their thinking brains were normal or superior."
Even the latest definition that dyslexia is due to a phonetic processing deficit of assumed cerebral origin cannot explain or encompass the vast majority of typical characteristics reported by dyslexics. For example, it can't explain any of the typical visual reading reversals and oculomotor tracking dysfunctioning or the above- described non-reading dyslexic symptoms and therapeutic methods. Nor can it explain the known overlapping of dyslexia with ADHD, phobias and developmental coordination disorder (DCD) or the related presence of only inner-ear and cerebellar neurological signs and symptoms.
"A cerebellar dysfunction capable of scrambling all sensory and motor functions, including phonetics, could explain everything," states Levinson. "It can even explain the secondary cerebral neuronal changes resulting from deficient reading in a recently reported Journal of Neuroscience fMRI brain study."
The value of any theory and definition of dyslexia rests entirely on its capability of explaining and/or encompassing all relevant data characterizing dyslexics while leading to new and unexpected insights. To date, only Levinson's cerebellar theory derived directly from many thousands of dyslexics appears to satisfy the above criteria. Importantly, this theory has been significantly substantiated by advanced neuroimaging and related brain studies as well as supported by the recently published video game improvements.
"No expert, however gifted, and no diagnostic procedure, however sophisticated, could ever come close to determining the voluminous insights offered by dyslexic patients spontaneously and/or upon careful questioning and examination," concludes Dr. Levinson.
About Harold Levinson, M.D.:
Formerly Clinical Associate Professor of Psychiatry at New York University Medical Center, Dr. Harold Levinson is currently Director of the Levinson Medical Center for Learning Disabilities in Long Island, New York. He is a well-known neuropsychiatrist, clinical researcher and author. For more information, call 1(800)334-7323 or visit http://dyslexiaonline.com.