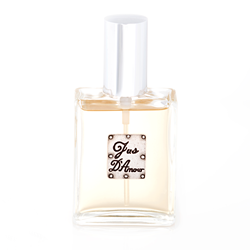 Los Angeles, CA (PRWEB) March 18, 2014
Scent is one of our most powerful senses, one that has the ability to evoke emotions. Jus D'Amour perfume oil by Parfums Mercedes is "a love song in a bottle", a beautiful, soothing, and comforting scent that has been known to mesmerize. This sophisticated love potion blend is so powerful that it has garnered a loyal following of celebrities, everyday fragrance enthusiasts, musicians and athletes who swear by its attention grabbing characteristics.
Jus D'Amour was created by singer, songwriter and performer Mercedes Ganon (her album "Ray of Life" is now available at http://www.mercedesmusic.com) a born "nose", who developed this particular scent as a part of her private fragrance collection. Mercedes' friend, champion boxer Roy Jones Jr., recognized the scent as a "knockout", persuading Mercedes to make the scent available for the masses, and even going as far as using it as his car "air freshener". After hundreds of requests from friends and perfumers, Mercedes finally decided to bottle and sell the mysterious mixture.
A comforting and mature scent, Jus D'Amour opens with notes of coco palm – sweet, but not cupcake-topping sweet, with a dark and dusky coco palm, which for a brief moment meets the mysterious green aqualeaf accord that makes one wonder if they might be headed someplace edgy. The soothing aroma of enveloping woods then appears and it is clear that the destination is the coziest chair in the room, complete with a cashmere throw. Creamy Tahitian vanilla wraps itself around mesmerizing sandalwood. Even lilting violets and jasmine snuggle into the tranquil blend instead of floating above it. Sophisticated and serene, with a warm, soft sweetness, each note in this melody takes the edge off a stressful day.
The uniquely concocted fragrance is one that captivates women and men alike. Roy Jones Jr. calls it "the must have fragrance for every woman". Jus D'Amour's other celebrity fans or as Mercedes' likes to call them, "Love Ambassadors" include everyone from Jennie Garth (who won't leave home without it), to Anna Gunn, Sharon Stone, Snoop Dogg, Ali Fedotowski, Melissa Joan Hart, Vanessa Williams, Penny Marshall, Brian McKnight and more.
"My Jus D'Amour or 'love juice', perfume is a dude magnet." said actress Jennie Garth. "Men go crazy for the earthy, cedar smell, so I make sure I'm ready to attract attention whenever I wear it!"
Jus D'Amour is available at select retailers including Lucky Scent, Scent Bar, Lavender Blue, R+D Hipster Emporium, Opensky and on their website http://www.jusdamour.com.
Media Contact: Jenn Deese, Melrose PR, jenn(at)melrosepr(dot)com, (310)260-7901, http://www.melrosepr.com