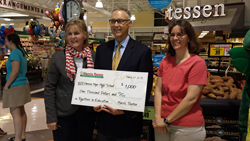 Matthews, NC (PRWEB) March 21, 2014
Today, Harris Teeter Store Manager Mark Gray presented $1,000 each to four local schools in support of their commitment to excellence in education. The schools receiving the donation were: Primrose School of West Cary, Highcroft Drive Elementary, Green Hope High School and Turner Creek Elementary School.
The check presentation, which took place at the Harris Teeter located in the High House Crossing shopping center in Cary, N.C., was made possible thanks to the North Carolina Education Lottery. The North Carolina Education Lottery offers incentive payments to retailers for selling winning tickets for the Carolina Cash 5 jackpot, and Harris Teeter donates incentive payments over $1,000 back to Together in Education schools. Since December 2011, Harris Teeter has donated $25,000 to schools through this program.
Harris Teeter's main fundraising program for school is called Together in Education (TIE). Since February 1998, the Company has donated approximately $20.3 million to the 5,500 schools participating in the TIE program.
"The Green Hope High School PTSA is very grateful to Harris Teeter and their Together in Education program," said Dee Deanhardt, Green Hope High School Parent Teacher Student Association President. "Our parents truly appreciate how easy it is to participate in the program. The ability to shop at local stores and support local schools at the same time is priceless!"
To learn more about the North Carolina Education Lottery and Harris Teeter, visit http://www.nc-educationlottery.org and http://www.harristeeter.com.